Cheap Eats In Waikiki Beach, Maui Catamaran Cruise And Tasting Wine From The Big Island : Show 11

Podcast: Play in new window | Download
Subscribe: iTunes | Android | RSS
Great cheap eats at Waikiki Beach, Maui sunset catamaran cruise, Big Island winery and more are featured in this episode of The Hawaii Travel Podcast.
TOP 7 INEXPENSIVE PLACES TO EAT IN WAIKIKI BEACH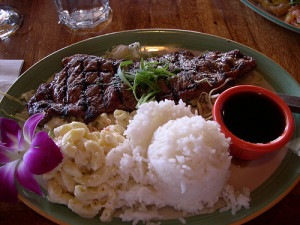 Yes, you can eat well and not break the bank at Waikiki Beach. It just comes down to knowing where to go, what to order, and how to find the best deals.  Here are our picks for the top places to eat on a budget in the Waikiki Beach area:
Hawaii Travel Question Of The Week
Where is your favorite place to eat on the cheap on Waikiki Beach?  Post your answers down in the comments section of this page. What's your favorite place to go and what do eat there?
MAUI SUNSET CATAMARAN CRUISE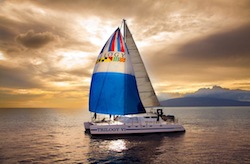 Our first question came in from via email from Hayden.  She writes:
Dear Jennifer and Dan, You guys have been helpful in planning our upcoming trip. Maybe I will call in when we get back and give you a rundown of what we did.  I heard you talking about snorkeling, but I don't think that's for us. However, I would love to experience the ocean. Are there any dinner cruises or sail boat tours that happen on Maui?  My husband, myself, and our 11-year old daughter will be in Maui (Ka'anapali) three weeks from today. Please help!
Exploring Maui's beautiful waters in a catamaran may be exactly what Hayden and her family are looking for.
Dan recommends starting at Trilogy Excursions.  They offer some truly memorable catamaran cruises.  One option for Hayden and her family is the sunset cruise at Ka'anapali Beach.
This cruise offers chef-prepared appetizers, adult/non-adult beverages, and whale watching (whale watching goes from December to April).  Each cruise is about two hours long. They do offer a 5-hour long cruise from Ka'anapali Beach, but that features snorkeling. That may be an option for people who are interested in what is going on underwater. But, for Hayden and her family, we think the two-hour cruise may be the perfect fit for what she's looking for.
Prices for the 2-hour cruise range from $62.10-$79 for adults, $51.75-$59.25 for teens, and $34.50-$39.50 for children. The snorkel cruise is more expensive, with prices ranging from $107.10 for adults all the way down to $59.90 for children. These are really good prices for an unforgettable ocean experience!
MORE MAUI OCEAN FUN
Also recommended for a fun Maui memory is learning to surf!  Check out the friendly people at Maui Wave Riders.
Learning to surf doesn't have to be scary or hard. In fact, the people at Maui Wave Riders are so patient, they will work with you to make sure you get up on the board.
WINE ON THE BIG ISLAND
Our next listener question came in from Daniel via email. He writes:
Aloha guys, I know the Island of Hawaii (the Big Island) is famous for coffee, but I seem to remember hearing about a Big Island winery.  Do you know of any that offer wine tasting and offers a nice selection of wines?
Volcano Winery has some wonderful wine available from their winery on the Big Island. They offer wine tasting starting from $5 to $8.
As stated on their website:
"Come taste the local wines inspired by volcanic fire and the bounty of the island. Tropical fruits like yellow guava and the exotic jaboticaba berry are blended with traditional wine grapes and transformed into vibrant creations that capture the playful spirit of Hawaiian paradise–and our relaxed, laid-back atmosphere is the perfect place to try them."
That sounds really delicious to us!
Some of their signature wines include:
Macadamia Nut Honey Wine
Hawaiian Guava-Grape Wine
Symphony Mele
Volcano Blush
Volcano Red
One more great thing about Volcano Winery is that their wines are available at many Hawaiian retailers including ABC Stores, Hilo Hattie's, and Longs Drugs. You can even order online!
IF YOU LIKED THIS, PLEASE SUBSCRIBE!