A Classic Oahu Luau And Waikiki Suggestions : Show 15

Podcast: Play in new window | Download
Subscribe: iTunes | Android | RSS
Our Review Of A Classic Oahu Luau And Some Waikiki Food And Shopping Tips And More Are Featured In This Episode Of The Hawaii Travel Podcast.
An email came in from Karen.  She asked a few questions as a matter of fact and we condensed them down to one question:
What are the best places to eat and shop in Waikiki, and where is the best luau in Honolulu?   
First, we did an in depth Waikiki food review of the best, cheap places to eat in Waikiki in show 11.  Check out Show 11 here. 
We also shared our picks for best places to shop. There are shops all over Waikiki.  For a "mall" type of shopping experience, check out the Ala Moana Center at 1450 Ala Moana Boulevard in Honolulu.  You'll find "high-end" shops all along Kalakaua Avenue.  For fun, "touristy" types of shopping, check out the International Market Place in Waikiki. 
Our favorite stores are the more inexpensive ones, like ABC Stores and Coconut Grove. 
REVISITING A CLASSIC OAHU LUAU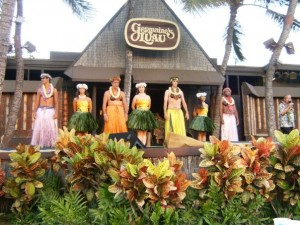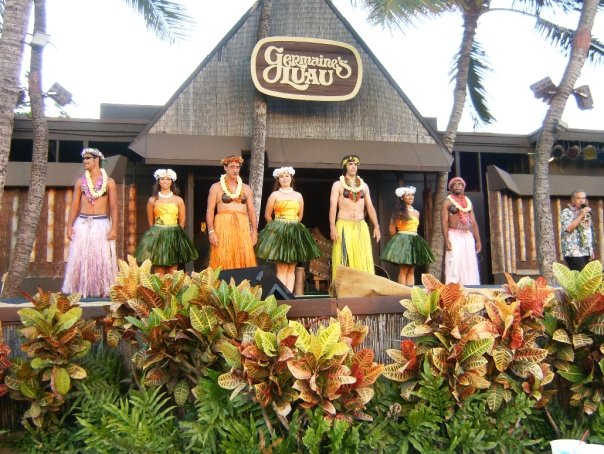 Both Jennifer and Dan were very excited by Karen's second question, because they couldn't wait to talk about their favorite luau on the island–Germaine's Luau!  It is a fun party with great food and a great show.  And, the best part is that it is really affordable.
Great Food
Germaine's offers some tasty food. In fact, Guy Fieri from the Food Network visited Germaine's and did his show from there on a recent episode.  We were told he enjoyed it so much that he came back on his next visit to Hawaii. 
Some of the food we enjoyed included Kalua Pig (straight from an underground oven–called an Imu), beef, fish, chicken, rice, salad, poi, and mouth-watering desserts.  Here is a complete menu.  And did we mention, it's an all-you-can eat dinner?
Stellar Talent
The show at Germaine's is top notch.  The dancers are all so talented and fun to watch!  One thing we really love about Germaine's is that they not only feature great Hawaiian hula dances, they also include dances from all over Polynesia (including dances from Tahiti and New Zealand). One of our favorite dances is the show-stopping finale–the Samoan fire knife dance.
Audience Participation
Something fun about the show is that it features audience participation.  First, they ask for all the women to come up on stage and learn a hula dance. Then, they ask three guys to go up and participate in a hula competition.  All this is really great fun!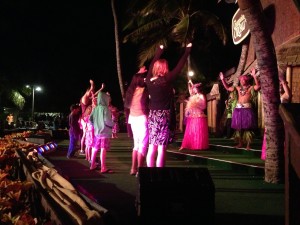 We liken the overall atmosphere to a fun, family backyard party with great food, song, and dance.
We absolutely recommend you visit Germaine's Luau!
SHARKS GOING EXTINCT?
An interesting news was passed on to us this week from Marlu West, founder of Save The Sea Turtles International.  She said that a new study shows that 1 in 15 of all sharks on Earth are fished from the oceans each year. That comes out to 100 million sharks every year that are fished.  This doesn't mean sharks are going to be extinct overnight, but these numbers are not good. The global shark fin market (which is estimated to be worth hundreds of millions of dollars, according to the study) is the primary factor of aggressive shark fishing.
The people at Save The Sea Turtles International care for more than just turtles. They care for all the creatures in the ocean–and this includes sharks. Sharks are an important part of the health of the oceans.  Check out the Save The Sea Turtles International website at http://www.seaturtlesinternational.org and make a donation if you can or just read up on what they do. They are good people and they do good work.
Our second shout out of the week goes out to the staff and the owner of the Royal Garden at the Ala Moana Hotel for doing their part in just saying no to shark fins in this recent shark fin story.
IF YOU LIKED THIS, PLEASE SUBSCRIBE!