CONTEST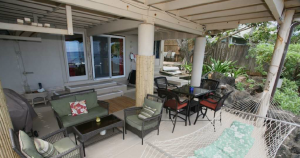 Good luck in Hawaii Travel Podcast's Hawaii contest. The Grand prize is a free weekend stay at Chuns Reef Beach Estate on the legendary North Shore of Oahu!
The grand Prize drawing, to be held on or about November 25, 2013. After Grand prize drawing we will contact the winner with instructions on how to contact and schedule your stay at the Chuns Reef Beach Estate at http://hawaiibeachfronts.com/.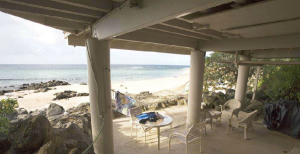 About Chuns Reef Beach Estate:
Chuns Reef Beach Estate sits on a lot of 17,000 sq ft, with 180 feet of ocean frontage. This vacation rental is located three miles from Sunset Beach, Waimea Bay and Haleiwa town, on the famous North Shore surf spot and snorkeling beach at Chuns Reef. Three private units are available to rent separately, or rent the entire estate. Each unit comes with it's own BBQ and there are two laundry areas. Beach and bath towels are provided. The only shared areas are the driveway, Jacuzzi and beach side covered picnic area.
The home was originally constructed as the Laniakea Train Station in the late 1800s. Because of it's history, it is built much closer to the ocean than current regulations allow – closer than most oceanfront homes on Oahu. It's unique position as a point home on the edge of Chun's Reef Beach means there are neighbors on only one side. We have raised the home above the winter surf, on large cement pillars. It's location and elevation give it an unparalleled view of the beach, ocean, turtles, and sunset; and allow easy beach access. The hills behind the our holiday rental are undeveloped lending the neighborhood an open rural atmosphere.
Outside, there is a Jacuzzi, gated access to the beach and two private beach patios (lanais).
Planning your dream Hawaii vacation starts right here with the Hawaii Travel Podcast.