Coqui Frogs And Bringing Pork Over The Pali Highway : Show 42
October 22, 2013

/

Posted in Podcast

/

By Menehune Webmaster

/

Comments Off

on Coqui Frogs And Bringing Pork Over The Pali Highway : Show 42

Podcast: Play in new window | Download
Subscribe: iTunes | Android | RSS
The Hawaii Travel Podcast Show 42 for Tuesday October 22nd 2013.  On this episode we'll talk about the Coqui Frog and why you should never bring bring pork over the Pali Highway.  All that and more, on this episode of the Hawaii Travel Podcast.
COQUI FROGS
Coqui frogs came from Puerto Rico and made a home for themselves on several Hawaiian Islands.  Many residents hate them and look at them as annoying pests, while others enjoy their chirping sounds at night.
Dan and Jennifer did a non-scientific telephone poll to see if random people enjoy the Coqui Frogs.
PORK AND THE PALI
Patrick emailed the following question…
Dear Dan and Jennifer-
 I enjoyed last week's episode regarding Pele and her curse.  I always heard of a different curse related to Pele, and now I am wondering if it is the same Pele.  I always thought Pele's curse dealt with bringing a pork sandwich on the Pali Highway.   Is this the same Pele?  And if so, does she have more than one curse?
-Patrick
This is a classic myth.  Story has it that Pele had a fight with the demigod Kamapua'a (a half-man-half-pig).  The two agreed not to visit each other. If one takes pork over the Pali, the legend goes, one is symbolically taking a piece of Kamapua'a from one side to the other, and it is said that Pele would stop that from happening.  Bad luck follows anyone who brings pork across the highway.
NIGHT MARCHERS
Jennifer also brought up Night Marchers.  This myth is scary. Night Marchers are said to be ghosts of ancient Hawaiian Warriors.
PINEAPPLE JACK-O-LANTERN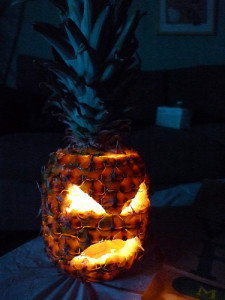 Jennifer shared a fun tropical Halloween idea.  Instead of carving a traditional pumpkin Jack-O-Lantern, she suggested carving one out of a pineapple as a fun alternative.
IF YOU LIKED THIS, PLEASE SUBSCRIBE!

CREDITS: