Exploring The Beaches On The Leeward Side Of Oahu : Hawaii Travel Podcast Show 22

Podcast: Play in new window | Download
Subscribe: iTunes | Android | RSS
The Hawaii Travel Podcast, show number 22 for Tuesday, May 7th 2013.  On this episode, we'll explore the beaches on a side of Oahu that many visitors never see.  All that and more, on this episode of the Hawaii Travel Podcast.
EXPLORING THE BEACHES ON THE LEEWARD (WEST) SIDE OF OAHU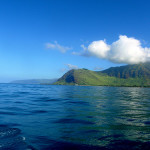 When people think of beaches on Oahu, they usually think of Waikiki beach with it's teeming nightlife,  fantastic restaurants and tropical drink-filled bars.  Perhaps  they think of the majestic North Shore, with crashing waves and sunsets that will stick with you for the rest of your life.
What they probably don't think of however are any of the beaches on the west side of the island.  This is also known as the leeward side of the island.  So  we thought we would talk about some of fun places to explore on this part of Oahu.
White Plains Beach
Essex Rd. and Tripoli Rd.
off H1 W.
Kapolei, HI, 96707
White Plains Beach used to be part of Barbers Point Naval Air Station.
This is an ideal beach for swimming and surfing.
They have lifeguards, free parking, bathroom and showers.
It has nice views of both Pearl Harbor and Diamond Head.
It's also perfect for cookouts and picnics.  This is a very well kept-up beach.
When we say it's good for surfing, it is especially good for beginners to learn surfing.  The waves are nice and consistent.  Not crazy big – perfect for beginners, and fun to swim in.
You may see Monk Seals, but there are people who actively watch them and protect them.  So look, but don't get too close.
Ko Olina Lagoons
Olani St
Kapolei, HI 96707
This area has really become popular because of three resorts.  The Ko Olina Beach Villas Resort, the JW Marriott Ihilani Resort and Spa at Ko Olina, and the newest resort is the new Disney property Aulani.
The 4 lagoons are actually man-made.
Beautiful spot to watch a sunset.
You will see a lot of marine life, Green Sea Turtles are all over, and you'll most likely see whales during whale season.  You might be lucky enough to see some dolphins.
The lagoons are a great place for beginners to learn to snorkel because the water is nice and calm.
A lot of people say the area is isolated, and to be sure, it is not Waikiki beach or downtown Honolulu.
All in all, Ko Olina Lagoons are great for kids, great for nervous swimmers, and are very clean.  Yes, they are man made, but that doesn't mean they are bad, this is a really nice place to play in the water and relax.
Makaha Beach Park
Another great beach for snorkeling – the water is warm and clear
This is a nice sandy beach.  Soft, fine sand that feels good in-between your toes.
This park is usually not very busy.
Makaha Beach has bathrooms and showers.
Lifeguards are available and they are around during normal business hours.
It is about an hour or so from town on the H-1 West.
Makua Beach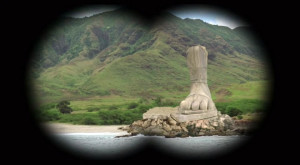 A trail leads out to Kaena Point.
It is very remote and almost always uncrowded.
One thing that will stand out to you is the beautiful white sand on this beach.
Keep an eye on the water, you may be lucky enough to see dolphins.
Sunbathing, swimming, snorkeling, fishing, relaxing in shady areas near the beach.
There are restrooms here, but there are no lifeguards on duty.
This is where they filmed some of the TV Show LOST.

Yokohama Bay
This is the very last stop, on Farrington Highway.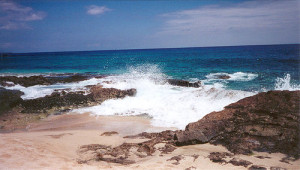 This beach isn't the best for swimming, in fact, we wouldn't recommend swimming here unless you are a strong swimmer.
You'll see a lot of surfers here, and if you want to work on your tan, this is a great place to sunbath.
Just down the road is the western end of the undeveloped Kaena Point State Recreation Area; you can hike to Kaena Point from here.
There are bathroom facilities here and free parking.
This beach is part of the Ka'ena Point State Park. From here a dirt trail leads north to the point, Oahu's north western tip.
There are big, beautiful waves during the winter months
Strong currents throughout the year- not good for swimming
Backed by the Wai'anae Mountains
Bring some sun protection, as this beach has no shade.
Kaena Point
Kaena Point was is very important in Hawaiian folklore.
It was known as a "jumping-off place" where departing souls jumped to the nether world.  This is a special place.
This is a beautiful spot, on the very most north western tip of the island.
It is very remote and usually uncrowded
CONSERVATION COUNCIL FOR HAWAI'I
This week we want to give a plug for the Conservation Council for Hawai'i. This wildlife organization is made up of thousands of people including scientists, Native Hawaiian practitioners, fishers, farmers, elected officials, students, and more.  These people care about Hawaii, and they care about Hawaii's animals.  For example, they enforce the Endangered Species Act and other laws to protect native Hawaiian species and habitats. They have helped lead campaigns to recover Hawaiian plants and animals on the brink of extinction.  We like these people, because they like Hawaii and it's animals.  Go check them out at http://www.conservehi.org/.
POLL RESULTS
What is the most important consideration you look for when choosing a hotel?
Reviews (38%)
Price (19%)
Location (19%)
Free Internet (13%)
Free Breakfast (6%)
Other (6%)
Coffee Maker (0%)
NEW POLL

Loading ...
IF YOU LIKED THIS, PLEASE SUBSCRIBE!

PHOTO CREDITS: