Hawaii And Spam, A Match Made In Heaven : Show 20

Podcast: Play in new window | Download
Subscribe: iTunes | Android | RSS
The Hawaii Travel Podcast, show number 20, for Tuesday, April 23rd 2013.  On this episode we'll discuss one of the true wonders of the world – SPAM®. All that and more, on this episode of The Hawaii Travel Podcast.
WHY IS SPAM® SO POPULAR IN HAWAII?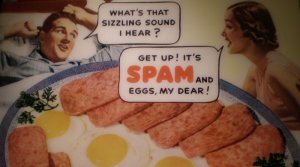 Listener Frank left a voicemail explaining the history of SPAM® in Hawaii.  He also mentioned the annual SPAM® festival that takes place in Waikiki each year. This call lead to a lively discussion about SPAM® and the SPAM® Jam.
SPAM® facts:
SPAM® a canned meat product introduced in 1937 by Hormel Foods

SPAM® is shortened from spiced ham

According to the official SPAM® website, more SPAM® is eaten per person in Hawaii than in any other state in America. About 7 million cans of SPAM® are consumed yearly in the state of Hawaii

During World War II, fresh meat was hard to come by in Hawaii.  American GIs were served SPAM®.  Of course it was a hit.  It made its way into other Hawaiian cuisine and soon became a staple

SPAM®can be found in many restaurants in Hawaii, including McDonalds
A FESTIVAL ALL ABOUT SPAM®?
www.spamjamhawaii.com
This is an annual event and this year it takes place on Saturday April 27 from 4-10.

This fun event happens every year in the heart of Waikiki on Kalakaua Avenue.  It is a street fair that benefits the Hawaii Food Bank.
The festival features SPAM®-inspired dishes from some of the top Hawaiian restaurants and chefs.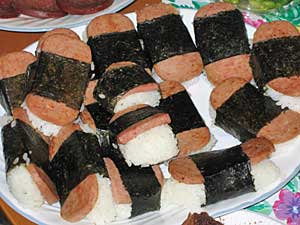 Some of the taste-treats include:
SPAM® Pancakes
SPAM® Street Tacos
Volcano SPAM® Nachos
And of course, plenty of SPAM® Musubi
There are also booths featuring Hawaiian arts and crafts.
There are two stages of free entertainment, including our friends from Germaine's Luau.

SPAM® lovers can get SPAM® hats, shirts, and other SPAM® gear, as well as SPAM® Macadamia nuts and other goodies.
This is Dan's college SPAM®  recipe.  This is very tasty.
The Dan-wich

INGREDIENTS:
1 can of tomato soup
1 can of SPAM®
1 block of Velveeta Cheese
1/4 cup diced onion
3 hamburger or hot dog buns

DIRECTIONS:
Preheat oven to 450 degrees.
Combine first 4 ingredients into bowl and mix with hands.
Separate buns and place on cookie sheet.  Scoop out mixture and place evenly on bun to make miniature open-faced pizzas.
Bake until cheese is melted and browned.  Honestly, Dan doesn't remember how long to bake because he would get hungry and take them out at different times.

Add diced pineapple chunks for a tropical flair.
LAST WEEK'S POLL RESULTS:
POLL 1:

Was the Hawaiian monk seal in the video filmed at the Waikiki Aquarium spinning because he was bored?
Results:
Bored (45%)

Content (36%)

Happy because he figured out the mysteries of the universe (19%)

One person called in and said she thought the seal was nuts.
POLL 2:
If you won an all-expense paid trip to Hawaii, which island would you choose to visit?
Results:
Oahu (36%)

Big Island (22%)

Kauai (21%)

Maui (14%)

Other (7%)

Molokai (0%)
THIS WEEK'S POLL
What is the worst type of airplane smell?
Smelly carry-on food

Smelly recirculated air

Smelly body odor

Smelly lavatory

Smelly breath

Smelly feet

Smelly gas discharge (flatulence or belch)
REMEMBER THESE PHONE NUMBERS
We want to give you a few phone numbers to remember while visiting the beaches of Hawaii.  We'll add these in the show notes for this episode as well, and it maybe be a good idea to jot these down.
To report an injured, stranded, or entangled marine mammal (i.e. whale, dolphin, seal) in trouble, please call the NOAA Marine Mammal Hotline: 1-888-256-9840
To report marine mammal or sea turtle disturbance or legal violation, please call the NOAA Office of Law Enforcement Hotline: 1-800-853-1974 and then call DLNRv Division of Conservation and Resources Enforcement (DOCARE) statewide hotline: 643-DLNR (3567)
Please report immediately and–for your safety–keep your distance. Injured, sick, or entangled animals can be unpredictable and dangerous.
One of the things we mentioned was sea turtle disturbance.  You may not know what that means.  When we were exploring Police Beach last year, we ran into some amateur nature photographers taking pictures of two sea turtles.  At first glance, it seemed fine.  These guys looked like professionals (they had professional cameras and light umbrellas).  It seemed like they were getting great pictures of the turtles.  But then we noticed they started getting really close to the turtles and the turtles didn't like it. The turtles tried to make their way back to ocean, but the photographers kept getting in their way.  This is form of a disturbance. The turtles are not there for your personal enjoyment.  That isn't to say you can't get great enjoyment from watching them from a distance, but they are not photo props for you.
In Florida, a man was recently arrested for touching a manatee.  An interaction that may seem harmless and innocent may ultimately have serious consequences to the animals. And it is against the law.
For more information about what you can do to protect marine animals, visit http://www.seaturtlesinternational.org
IF YOU LIKED THIS, PLEASE SUBSCRIBE!

Photo credits:
SPAM® Jam Photos by http://www.spamjamhawaii.com
Green Sea Turtle photo by Brocken Inaglory