Learning The Hawaiian Alphabet, Niihau Shell Exhibit : Show 45
November 5, 2013

/

Posted in Podcast

/

By Menehune Webmaster

/

Comments Off

on Learning The Hawaiian Alphabet, Niihau Shell Exhibit : Show 45

Podcast: Play in new window | Download
Subscribe: iTunes | Android | RSS
The Hawaii Travel Podcast Show 45 for Tuesday November 5th 2013.  Today we'll talk about a new exhibit at the Bishop Museum.  And; we'll answer an email about how to meet people while visiting Hawaii.  And, we try to master the Hawaiian language.  All that and more, on this episode of the Hawaii Travel Podcast.
LEARNING THE HAWAIIAN ALPHABET
Dan shares a song that you can't help but hum along with that will help you learn the Hawaiian alphabet.  You can find the song at http://www.didipop.com/hawaii/
BISHOP MUSEUM EXHIBIT
Ni'ihau Shell Lei: Ocean Origins, LivingTraditions at the Bishop Museum October 26, 2013 until January 27, 2014.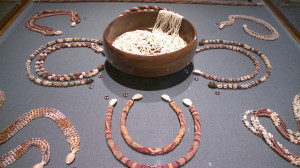 Tiny, tiny shells. Tiny, tiny mollusks!
Special Hawaiian Law designates the shells! H.B. 2569 passed in 2004, it distinguishes Ni'ihau shell lei apart from other shell lei. It prohibits the selling of seashell products that incorrectly use the name "Ni'ihau" in their description. Ni'ihau shell lei and jewelry are made only in Hawai'i and only with shells from Ni'ihau.
MEETING LOCALS WHILE ON VACATION
Ruby emailed the following question:
My husband and I are planning to visit Hawaii next year. We are considering spending two weeks on Kauai.  Our plans are to rent a cabin or house for a couple of weeks so we can cook and enjoy a relaxed vacation. While we will want to see the geological sites of the island, we also want to spend some time getting the know the people who live on the island.  Any suggestions of what to do and where to go to meet people?
  Jennifer recommends talking to everyone you meet, especially at the grocery store, public transportation, and big stores.
IF YOU LIKED THIS, PLEASE SUBSCRIBE!

CREDITS: