Cooling Off On The Big Island, Kauai With Kids And Shipping From Hawaii: Show 30

Podcast: Play in new window | Download
Subscribe: iTunes | Android | RSS
The Hawaii Travel Podcast Show 30 for Tuesday July 23rd 2013.  On this week's show we'll talk about where to cool off on the Big Island, we'll explore your shipping and shopping options while visiting Hawaii, and we'll talk about things to do with kids on Kauai.  All that and more on this episode of The  Hawaii Travel Podcast.
SHIPPING FROM HAWAII
Agnes emailed us and asked the following:
My husband and and 2 girl friends are visiting Hawaii. As we are arriving on Thanksgiving eve, we are prepared for some serious Black Friday shopping. The thing is, we do not want to lug our shopping through subsequent jaunts to Maui and Big Island. Appreciate your advice! Thanks.
When shopping on Oahu, make sure to visit the swap meets.  This is where many of the stores in Waikiki shop.  Visit the swap meet and get great deals direct from the suppliers.

One place we recommend is the Aloha Stadium Swap Meet & Marketplace.
We feel the best option for shipping packages is via the United States Postal Service.  They are everywhere and surprisingly reasonable.  The only potential downside is the length of time it takes to get mail from Hawaii to the main land.
KAUAI WITH KIDS
Our second email came from the absolute best grandma in the world, Lori, she wrote…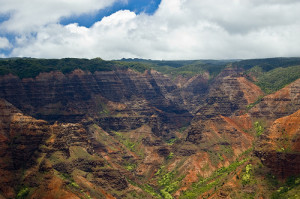 Hi guys!
I am really enjoying your podcasts….especially the tidbits of Hawaiian history. I haven't been to Kauai for 40 years, and in July I will be traveling there with my 5 year old granddaughter. Are there any "must-see's" that I don't want her to miss? I would really appreciate your input and look forward to future editions of your podcast.
Thanks so much…
Lori from Grants Pass, Oregon
Apart from listening to both our Kauai Bucket List Epsiode (http://www.hawaiitravelpodcast.com/show25 and our Kauai Travel Tips episode (http://www.hawaiitravelpdcast.com/show14)  we recommended Waimea Canyon.
Jennifer also mentioned Steelgrass Farm, a chocolate farm and recording studio.
And another place that would be perfect for people of any age, (but especially great for kids) is the Na 'Aina Kai Botanical Gardens.
The Na 'Aina Kai Botanical Gardens is located in Kilauea and their phone number is 808.828.0525.
HILO ICE POND
Very near to downtown Hilo there is a unique place to cool off, especially during hot summer days. It's called the Hilo Ice Pond.  This is a fun spot where the locals and those in the know go to cool off.  Although its called Ice Pond, there is no ice in the water.
 It is a big brackish pond whose cold fresh water mixes with the warmer water from Hilo Bay.  There isn't a beach here, just a fun watering hole.
 It's part of Reeds Bay Beach Park, located  at the edge of Banyan Drive.
 Ponds Hilo is a nice restaurant that looks over the pond with a fantastic bar, perfect for tropical drinks.
135 Kalanianaole Ave Hilo, HI 96720
(808) 934-7663
 And finally, Jennifer recommended everyone who will be on the Big Island this weekend (July 26), to check out the Sunset Hula featuring Halau Kahula O Nawahine Noho Pu`ukapu at Hawaii Volcanoes National Park.  This special hula performance is not to be missed overlooking Kilauea Volcano.  For more info, visit them online http://volcanoartcenter.org/component/content/article/79-supplemental/269-hula-kahiko-series
IF YOU LIKED THIS, PLEASE SUBSCRIBE!

CREDITS:
Fishing Report music courtesy of the great Don Arndt – Slow Country Waltz subscribe to his you tube channel.
Hilo Ice Pond photo by Aloha Jan
Waimea Canyon photo by bjhaddad