Trek To Goat Island And The Kukaniloko Birthstones Site: Show 29

Podcast: Play in new window | Download
Subscribe: iTunes | Android | RSS
The Hawaii Travel Podcast Show 29 for Tuesday July 16th 2013.  This week's show we'll talk about an utterly fun trek to Goat Island. All that and more on this episode of The  Hawaii Travel Podcast.
GOAT ISLAND HIKE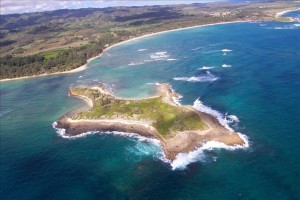 Goat Island is about 700 feet off the shore of Malaekahana Beach.
It is a protected seabird sanctuary, a very fun time.
This might be a fun diversion on your way to or from the Polynesian Cultural Center.
Must wear some water shoes, the bottom is a little rough, you are walking across the reef.  You can buy them at any of the local stores, ABC, grocery stores etc, they are about $9.  Worth the investment.  Remember, you will be getting wet, because you have to walk through the ocean, sometimes it is deep, so any valuables you have will get wet, so a good idea is to buy a waterproof bag, a zip lock bag would work, in fact, maybe your toiletry bag you used on your flight will work.  A little double duty work.
Your reward for making this hike – a beautiful, somewhat isolated beach.  The swimming here is great because the beach is protected, so the waters are pretty calm.
Like we said, the beach is a protected seabird sanctuary.  The birds lay their eggs and nest in the middle of the island, so don't go into the middle of the island, instead, follow the perimeters of the island, and that is where here you want to be anyway, because that is where the awesome beaches are.
Animals you may see, of course birds, sea turtles and if you are lucky, Monks Seals enjoy sunning on the beaches of Goat Island.
WARNING:
Look at the surf, if the waves are big, don't go.  And, beware of going in during the winter months.  Because the surf does this crazy thing where it kind of wraps around either side of the island and they meet right in the path of where you will be wading to the island, so it is easy to get knocked off your feet.  In fact, we wouldn't recommend going unless you are a somewhat experienced swimmer.
KUKANILOKO BIRTHSTONES
Kukaniloko Birthstones
At the intersection of Kamehameha Highway (Hwy. 99) and Whitmore Avenue on the north side of Wahiawa.
The Kukaniloko Birthstones is a very important culture stop on Oahu.  It is where Oahu's high chiefs were said to be born.
"HUAKA'I O KAMANANUI"
THE 36TH ANNUAL PRINCE LOT HULA FESTIVAL
Moanalua Gardens Foundation
Cultural and Environmental Education in Hawaii
1352 Pineapple Place, Honolulu, Hawaii 96819-1754
MGF Office Hours: Wednesday and Thursday 8:30 am – 1:00 pm
Moanalua Gardens Park Hours: Daily 7:30 am to Sunset
Phone: (808) 839-5334; Fax (808) 839-3658
If you will be on Oahu the weekend of July 20, 2013 Jennifer recommends you check out The 36th Annual Prince Lot Hula Festival at Moanalua Gardens.  Dancers from many hula schools will be performing and there will be food and more things to check out.
IF YOU LIKED THIS, PLEASE SUBSCRIBE!

CREDITS: