Hawaii Honeymoon And Family Fun, Educational Activities : Show 28

Podcast: Play in new window | Download
Subscribe: iTunes | Android | RSS
This week's show features a listener question bonanza as we share a few ideas for Hawaii honeymoons and educational family fun activities. All that and more on this episode of The  Hawaii Travel Podcast.  Show 28
OAHU AND MAUI HONEYMOON
Sandra from Portland sent us a message through our Facebook page.  She wrote…
Hi Dan and Jennifer! Love the podcast, keep em coming. I still have 2.5 months to learn before I go to Maui and Oahu!
I wanted to know if you guys could recommend anywhere in Laie. We will be staying there for 4 days and would love to know where to go — got anything? I also wanted to see if you knew anything about the Maui Kai condos? We will be staying for our honeymoon and would like to know your guys' must see spots on both Oahu and Maui. This out first time to Hawaii and any help would be greatly appreciated! Thank you so much! –
Sandra, Portland, Oregon
First, let's talk about a few things for you guys on Oahu…
Jennifer recommends the 12th annual Duke's OceanFest which will be held in various places throughout Waikiki, from Saturday, August 17, through Sunday, August 25, 2013.  This is a  9-day event that features a variety all of Duke Kahanamoku's favorite activities including Longboard Surfing – Paddleboard Racing – Swimming – Tandem Surfing  and more.
Second, let's talk about a few things to explore on Maui…
First, it looks like they have picked the Maui Kai condos to stay in.  These look nice with a nifty HD Webcam you can control.
The first thing to do is checkout http://www.hawaiitravelpodcast.com/show4 where we did an extensive show about how to plan a Maui honeymoon.
Of course you will be close to Lahaina, the cute little whaling town.
Whalers Village Shopping Center
2435 Kaanapali Parkway
Lahaina, Maui, Hawaii 96761
808-661-4567
Whalers Village Shopping Center is a favorite shopping mall to check out.
For sure checkout a Luau.  You have two choices,  a fun touristy type of Luau we like the Old Lahaina Luau at $99 and for a more romantic date/food luau, the Feast at Lele at $115.
FUN AND EDUCATIONAL IDEAS ON OAHU
Harris and Melanie are planning a family  trip to Oahu and are looking for some activities that are both fun and educational.  They write…
Dear Dan and Jennifer-
We are just three months away from our trip to Oahu.  My wife and I are suckers for places and activities like the Polynesian Cultural Center.  There is something special about experiencing things in a "hands-on" manner that is different than a regular museum.  Here in New York for example we have many famous museums, but our favorite place is the Lower East Side Tenement Museum, where they actually have an old tenement building setup just like how it was in the late 1800s.  We have heard you both talk about the Polynesian Cultural Center on Oahu, and the Kamokila Hawaiian Village on Kauai (That sounds wonderful, but alas we are saving Kauai for a future trip).  Can you recommend  any activities similar to these in Honolulu or the surrounding area?  A little more information about us if needed,  we will be traveling with our 10 year old twins (a boy and girl) and wanted to mix some fun educational activities along with something fun we can all enjoy. Our daughter loves to swim but is afraid of the ocean, so it looks like we will try to find a hotel with a nice pool for the kids.
Thank you so much for doing the podcast, it has been invaluable helping us plan our trip.
-Harris and Melanie, Park Slope, Brooklyn
Hawaii's Plantation Village
94-695 Waipahu St
Waipahu, Oahu, HI 96797
Phone: 808 677 0110
This is a restored sugar plantation and museum.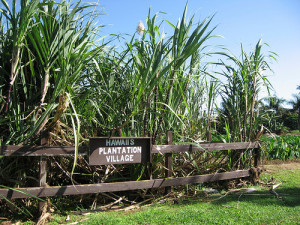 A lot of people are comparing this to Polynesian Cultural Center as an less expensive alternative.
You'll learn what it is was like to work on a real sugar plantation back in the late 1800s, early 1900s.  For example, the plantation would provide it's workers housing and some food, some medical care, and about $9 per month for a working wage for men and women would make about $6 per month.
Explore 25 authentic plantation homes and other structures with a guide.
You'll be able to see artifacts from this time, like tools used, clothing and other things used by the workers.
The plantation covers all of the cultures that went into making the plantation work.  Of course you'll learn about the Hawaiian culture, as well as Chinese, Portuguese, Puerto Rican, Japanese, Korean and Filipino cultures.
The exhibits and the stories the guides tell are sometimes emotional and for sure compelling.  These people did not have it easy.
Wet 'n' Wild Hawaii Water Park
400 Farrington Hwy Kapolei, HI 96707
Phone: (808) 674-9283
The only Hawaiian water park in the entire state of Hawaii
Located in Kapolei, about 35 miles from Waikiki
Fun water rides, like Island Racers, Surfslide, Raging River, Tornado, Shaka
There is food, available.
Check website to see if there any ride closures. And, food is available, but the lines can get long.  So think about bringing your own food in.
IF YOU LIKED THIS, PLEASE SUBSCRIBE!

CREDITS: