Hawaii Bucket List: Kauai Edition : Hawaii Travel Podcast Show 25

Podcast: Play in new window | Download
Subscribe: iTunes | Android | RSS
Our Hawaii Bucket List series kicks off with a special Kauai Edition!  We pick the things we want to do on Kauai before we die.  All that and more, on this episode of the Hawaii Travel Podcast, show number 25.
HAWAII BUCKET LIST SERIES – KAUAI

We're excited to kick off the first part of our Hawaii Bucket List series.  Today we will focus on the island of Kauai.  Of the main Hawaiian islands, Kauai is the oldest at over six million years old.  So, we each picked our top three things we want to do on Kauai before we die.
Malae Heiau
At one point, before the Polynesian people came, it was thought that Kauai had over 50,000 Menehune.  They were excellent craftsmen and the Hawaiians paid them in shrimp.  They would build these fantastic structures, walls, and Heiaus.,  And, many of these structures are still standing today.  There are a few famous structures, like the Menehune Trench in Waimea, and there are some fishponds, but there is one Menehune structure I would love to visit.  And, it is an old Heiau called the Malae Heiau.
This Heiau is still being restored and is not well known.  It is kind of hard to get to.  It's near the banks of the Wailua River.  The Heiau itself is big, in fact, it's the biggest Heiau on the island.  It measures about 275 feet by 325 feet.  It used to be surrounded by walls that were up to 8 feet high.  Much of it is hidden beneath a sugarcane field.
This area, was called the Great Sacred Wailua, and it was taboo for common folks to visit.  This was were the highest ali'i would worship.  This Heiau is considered one of the most sacred spots in the Hawaiian islands.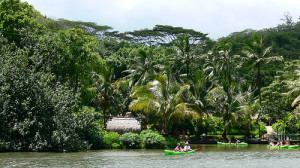 Kamokila Hawaiian Village
5443 Kuamoo Rd
Kapaa, HI 96746
(808) 823-0559
The Kamokila Hawaiian Village is a recreation of an authentic Hawaiian village.  This is a recreation of the village where the last reigning king of Kauai, King Kaumuali'i called home.  This village has many buildings and exhibits that will give you an idea of how the Hawaiians used to live.  You can also rent canoes here.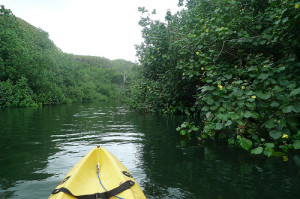 Kayak the Wailua River
The Wailua River is about 20 minutes north of Lihue, which is where you will fly into when visiting Kauai. There is nothing that isn't beautiful about the Wailua River.  There are many places where you can rent a kayak, and you can just start to explore.  Now, neither of us are expert kayakers, but, we've always wanted to Kayak in Hawaii, and the only rivers in Hawaii where you can kayak on that are navigable are on Kauai.
So, what makes the river special?  The river is about 20 miles long, and at one time, this was how you would get to the Heiaus, and other fun spots.  There are two beautiful waterfalls you can see, the Wailua Falls (This is the waterfall from Fantasy Island) and the Opaeka'a Falls.
Back on episode 14 we talked about another spot on the Wailua River, and that is the beautiful lava rock grotto called Fern Grotto.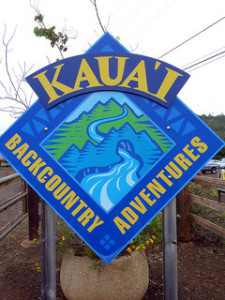 Kauai Backcountry Adventures
3-4131 Kuhio Hwy
Lihue, HI 96766
(808) 245-2506
Enjoy mountain tubing and fun zip lining adventures.  Who wouldn't want to zipline high atop a bamboo jungle, or float on inner tubes through an old sugar plantation?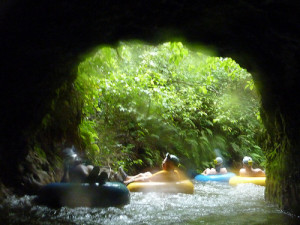 Kauai Backcountry Adventures offers both at reasonable rates.  Families can easily spend a day here, and the memories here will live with you forever.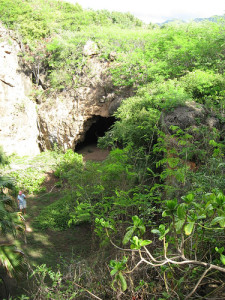 Makauwahi Cave
P.O. Box 1277
Kalaheo, HI 96741
(808) 482-1059
The Makauwahi Cave is huge cave on the South coast of Kauai.  It's a big limestone cave.  It's part of a sinkhole and cave complex.  Dan guess this is about as close to dinosaur living as you can get.  The sinkhole is estimated to be about 10,000 years old, and because of the unique makeup of the limestone ground, and sand, and the PH levels in the water it is considered to be the richest fossil site in the Pacific islands.
45 species of birds can be found in the cave's fossils.  There are many plants that exist nowhere else on the planet except here. This cave and it's fossils tell the stories of natural disasters.  It illustrates what life was like before people inhabited this area, and after people inhabited this area.
The Blue Room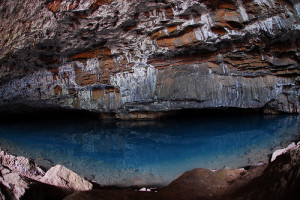 he Blue Room is a wet cave on Kauai's North Shore.  When sunlight shines through the waters, it colors the cave and water a striking blue color.  This is a spot where you will want to bring your camera for sure.  Although the water looks inviting, it is probably not a good idea to swim here thanks to the Leptospirosis virus.
POLL RESULTS:
What's your favorite part of visiting Hawaii?
The results from last week's Hawaii Travel Poll, in order from top to bottom.
The general feeling of Aloha you can't find anywhere else on the planet
Tropical weather
Exploring
Eating
Sandy beaches
Water sports
Drinking
Shopping
THIS WEEK'S POLL:

KAUAI HUMANE SOCIETY
3-825 Kaumualii Hwy
Lihue, HI 96766
(808)632-0610
We thought because we talked about Kauai today we would plug a non-profit on the island, and because we are animal lovers, we picked the Kauai Humane Society.  The Kauai Humane Society, a non-profit organization, was established back in 1952.  They investigate all reports of animal abuse and neglect.  They deal with pet overpopulation, they are an emergency pet friendly disaster shelter that protects families and animals in the case of big storms, like hurricanes.
If you have a bucks to throw their way, I am sure they and all the dogs, cats, rabbits, and other creatures would appreciate it.
And, make sure to check out their innovative Dog Field Trip Program where you can take a dog on a field trip during your visit. http://kauaihumane.org/volunteer/dogfieldtrips
Visit them online at http://kauaihumane.org
IF YOU LIKED THIS, PLEASE SUBSCRIBE!

CREDITS:
Kauai sand photo by megan g
Kamokila Hawaiian Village photo by J Mullhaupt 
Kayak the Wailua River photo by Recovering Vagabond
Wailua Falls photo by Chuck 55
Opaeka'a Falls photo by Peter – Los Angeles
Kauai Backcountry Adventures sign and Kauai Backcountry Adventures tubing photos by ZakVTA 
Makauwahi Cave photo by Mely-o
The Blue Room wet cave photo by _e.t