Introducing The New Tropical Drink – The Molokini: Show 52
December 17, 2013

/

Posted in Podcast

/

By Menehune Webmaster

/

Comments Off

on Introducing The New Tropical Drink – The Molokini: Show 52

Podcast: Play in new window | Download
Subscribe: iTunes | Android | RSS
The Hawaii Travel Podcast Show 52 for Tuesday December 17th 2013.  Today is the big day!  Jennifer will debut the signature drink of the Hawaii Travel Podcast, the Molokini!  We'll also announce the winner of the Germaine's Luau contest.  All that and more, on this episode of the Hawaii Travel Podcast.
GERMAINE'S CONTEST WINNER
Rachelle won the contest.  She will get two passes to the too good to miss luau, Germaine's Luau
 The question was:
Name the dish that is a layered meal consisting of hot rice, a hamburger patty, a fried egg and brown gravy?
 ANSWER:  Loco Moco
KO OLINA KIDS IDEAS
Michelle and Alan emailed in…
Dear Dan and Jennifer-
We are traveling to Oahu in April with our kids and are looking for a few unique ideas to do with them.  Any thoughts?  PS  We will be staying in the Ko Olina area.
-Michelle and Alan. Austin TX
Two fun suggestions: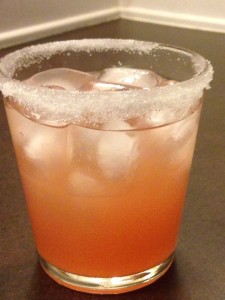 ANNOUNCING THE MOLOKINI!
Our own mixologist Jennifer created the signature cocktail of the Hawaii Travel Podcast. It's called the Molokini and it is VERY tasty, and, it packs quite a punch.  A nice Hawaiian Punch!
Ingredients:
1 ounce Triple Sec
1 ounce Rum
1/2 ounce Roses Sweetened Lime Juice
1 1/2 ounce of Guava Nectar
Steps:
Rim about 3/4 of the glass with sugar.  This represents the top of the volcano.  Of course you'll want to rim the glass with sugar before you put the rest of the ingredients in.
Mix ll of the ingredients in a shaker with ice and shake.  Pour into glass.  Drink.  Repeat.
IF YOU LIKED THIS, PLEASE SUBSCRIBE!