See Lava Flow At Night, Swim With Sharks, And More Tips: Show 6

Podcast: Play in new window | Download
Subscribe: iTunes | Android | RSS
Get up close to Lava flowing, Swim With Sharks, And More can be found in this episode of the Hawaii Travel Podcast.
WHERE TO SEE LAVA FLOWING AT NIGHT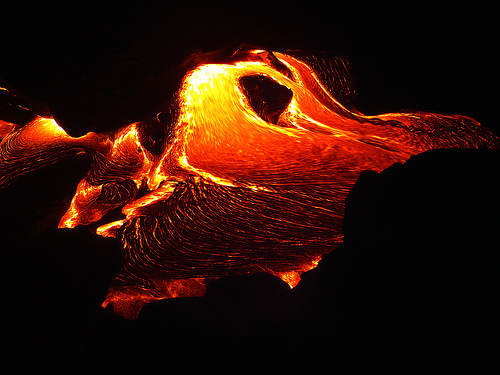 Irene from Portland called our voicemail and asked for advice on where to see lava flowing at night. Her son loves science and she thinks this would be an amazingly unforgettable experience. We couldn't agree more!
The Big Island offers spectacular views of lava. First, visit the National Park Services page for a map and updated volcano and lava flow information.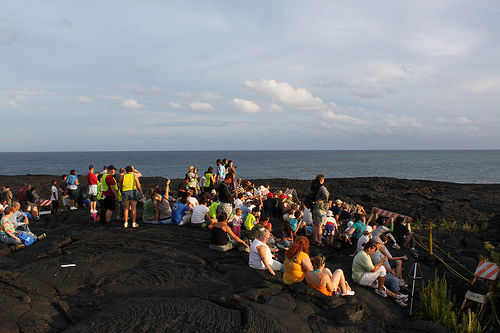 The Kalapana viewing area is highly recommended. Located just outside of Hawaii Volcanoes National Park, the Kalapana viewing area is managed by Hawaii County, and there are no fees to enter the viewing area. Current viewing hours are from 4PM to 10PM, with the last vehicle being allowed in at 8PM. Call 808-961-8093 for a recorded message listing updated viewing conditions and other pertinent information.
The National Park Service has released this special safety guideline video for viewing lava flows. Make sure to review it before visiting lava flow sites.
Guided Lava Tours
You may opt for a guided lava tour. A few to consider are:
Poke-A-Stick. This is a fun tour! The name–Poke-A-Stick–was derived from the goal of being able to get so close to the lava flow that you'd be able to poke a stick into it. This one may not be suitable for children.
Lava Ocean Tours, Inc. This company offers boat tours to see lava entering the ocean as well as hikes. This tour is suitable for the whole family.
Another option is Native Guide Hawaii.  This is a family-friendly tour and is run by a Hawaii native and former teacher. Warren–the guide–will take you and your family on many eco adventures and tours, including a volcano hike and special bird watching tours.
HOW TO LOOK A SHARK RIGHT IN THE EYE
Veronica from Florida asked where her husband can swim with sharks on Oahu. We discussed a couple of options on Oahu's North shore:
Both of these services offer shark encounters, complete with shark cages.
We also discussed how sharks get a bad rap. Sharks play an important job in our seas. They pick off the dead, dying, and weak–leaving the strong and healthy to survive. Survival of the fittest. Without sharks our ocean's ecosystem would collapse. The health and productivity of the fish that humans and other mammals consume would degrade to the point that our human health and the amount of seafood available for consumption would also be jeopardized.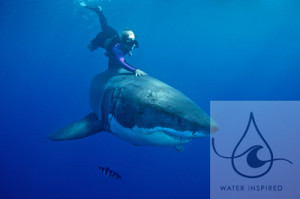 Juan and I both work at Save The Sea Turtles International. He is an amazing photographer and shark advocate. He and his girlfriend swim with sharks (not in cages mind you, but right next to them!). Check out Juan's website www.waterinspired.com. Can you believe these amazing pictures?
WHAT ABOUT YOU?
Would you ever participate in a shark encounter? What things would you consider doing while traveling in Hawaii that may be out of your comfort level? Or better yet, what things would you never do while traveling in Hawaii that other people do? Please post in our comments section below. We would love to hear from you.
HOW TO USE GROUPON (AND OTHER COUPON SITES) TO SAVE MONEY ON YOUR HAWAIIAN VACATION

A few months before going to a Hawaii, change your Groupon email subscription to see deals in that area. You'll find hotels, restaurants, etc
Always read reviews (i.e. Yelp, Google Places)
Always ask if you really want it; don't just get it because it's a good deal!
If you don't use it, don't fret. Usually state gift card laws are on your side. Just call Groupon and say you want a refund on your expired offer. They will usually refund you on the spot.
We found one of our favorites restaurants through Groupon: LuLus Waikiki
We discussed another restaurant we found on Groupon that looks promising–Hiking Hawaii Café–where you eat and hike! This sounds like a fun

and

tasty combination!
PLASTIC DEBRIS IS KILLING ALBATROSSES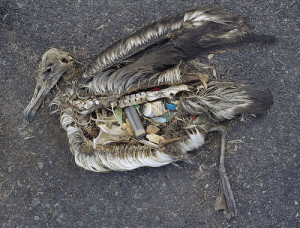 Sadly, a large part of an Albatross' diet is plastic trash and garbage. Much of this trash is coming from the Japanese tsunami, while the rest of it comes from people being careless and littering. Albatross eat the plastic and litter and die an awful death. This is why the monthly beach clean-ups that are done at Adopt A Beach Hawaii are so vitally important. This is an offshoot of Save The Seat Turtles International. This non-profit group sends teams of volunteers out each month to pick up plastic and other debris on Oahu's majestic North Shore. What they do is vitally important to Hawaii's marine life and to the overall health of Hawaii's beaches. Consider volunteering. It's actually a fun way to spend time! Check out www.adoptabeachhawaii.com for more information.
IF YOU LIKED THIS, PLEASE SUBSCRIBE!