Manapua And Malasadas Meet Volcanoes, Girls, Beaches, And Bars : Hawaii Travel Podcast Show 23

Podcast: Play in new window | Download
Subscribe: iTunes | Android | RSS
On this episode,  we'll try to help a couple of college students figure out which island to visit, and we'll also talk about two taste treats to sample while visiting Hawaii.  All that and more, on this episode of the Hawaii Travel Podcast. The Hawaii Travel Podcast, show number 23 for Tuesday, May 14th 2013.
 MANAPUA AND MALASADAS 
Listener Frank emailed in with a food topic suggestion.  He writes…
Maybe sometime you can cover unique local treats that you can get on Oahu. Two that jump to mind are Manapua and Malasadas.
If there are two things we love talking about, it's food, and more food.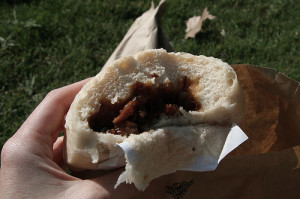 Manapua
Manapua is a pork-filled bun.
This came from China when over 50,000 Chinese immigrants made their way to the islands in the 19th century.  In China this is called Cha siu bao.
You can find Manapua in many places, but a very common place to find some are usually down by the beach in a food truck.
The Manapua food truck origin has a colorful history.  Very similar to how many of us grew up with ice cream men, many Hawaiians grew up with a Manapua Man walking their neighborhood.  They would walk around the neighborhood with two big tin cans filled with Dim Sums tied together with rope and they would shout out "Manapua!" and ring a bell and people would come out.
Listener Frank shared his favorite places to get Manapua on Oahu:
Libby Manapua Shop (near the airport) has the traditional steamed manapua.
Royal Kitchen in Chinatown has baked Manapua in many varieties and is very popular.
Also great for steamed Manapua is Char Hung Sut in Chinatown.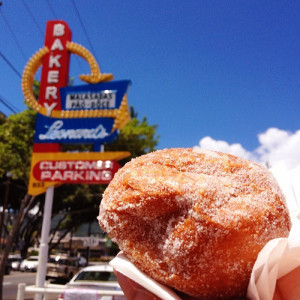 Malasadas
Malasadas Portuguese donuts.
Similar to the Manapua origins, Malasadas came to the islands in the late 1800s when Portuguese laborers came to work in the plantations, and they brought their own traditional foods with them.
Sugar or cinnamon coated.
They can also be filled with custard, chocolate, fruit jams. For example guava jelly.
Frank also his favorite place to get malasadas on Oahu, and it is a classic.  Leonard's Bakery.
Leonard's Bakery
933 Kapahulu Ave,
Honolulu, HI 96816
(808) 737-5591
Leonard's Bakery opens at 5:30am.  I can't think of a better way to get an early start on a day of exploring then by stopping by Leonards first thing in the morning to get some hot fresh malasadas.  The line should be shorter as well that early in the morning.
You can also get Leonard's Malasadas at the Malasadamobile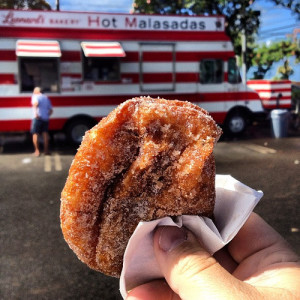 Waikele Shopping Center
94-894 Lumiaina Street
Waipahu, HI
HOURS:
6am – 9pm Sun – Thursday
6am – 10pm Friday and Saturday
5a-10pm Malasada Day (2/12/13)
Windward Mall
46-056 Kamehameha Highway
Kaneohe, HI
HOURS:
6am – 9pm Sun – Thursday
6am – 10pm Friday and Saturday
5a-10pm Malasada Day (2/12/13)
Malasada Day always falls on the day before Ash Wednesday.  Yet another food activity to base an entire trip around.
PLANNING A HAWAII VACATION AFTER COLLEGE GRADUATION
 Next, college roommates Mark and Jacob wrote in looking for help on picking an island. They write…
Hi guys, we are seniors at the University of Arizona.  We are roommates who planning a trip to Hawaii right after graduation this year.  We have about $3500 saved up and will probably each get about another thousand dollars as graduation gifts.  We are thinking about staying 4 or 5 days and nights.  We want to see three things:  volcanoes, girls, beaches, and bars.  Which island should we visit and which areas would it make sense to stay where we can see everything we want to see?   Can you hook us up?      Mark and Jacob- U of A
Sample Budget For The Big Island:
---
Airfare from Phoenix to Hilo: $700 x 2 = $1400
Lodging $120 x 4 = $480
Car $450
Eating $400
Drinking $300
Drinks for any girls you are hitting on $220
---
TOTAL $3250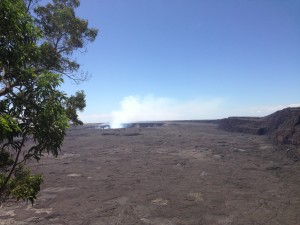 The Big Island is the only island you will be able to see an active volcano. To pull off everything you guys want to pull off, you'll probably want to fly into Hilo, stay there a day or two, give yourself a day to explore Hawaii Volcanoes National Park, maybe start early in the morning so you can see the park, and then when it gets dark, drive to the Kalapana Lava Viewing area, and you guys can hike in and see a lava flow at night.  You'll love it.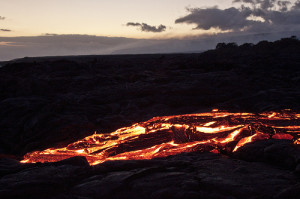 (We talked in-depth about Hawaii Volcanoes National Park on episode 14 of The Hawaii Travel Podcast, and we discussed the Kalapana Lava Viewing Area in-depth on episode 6.)
Then early the next morning jump in the car and head to the Kona side.  And that is the side where you'll see  the girls, beaches, and bars.
KONA BEACHES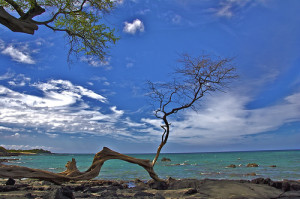 Anaeho'omalu Bay
Anaeho'omalu Bay (also known as A-Bay) is a wonderful beach.
It is full of windsurfers, and big waves.
The sand and lava rock combination is beautiful, and the coconut trees offer plenty of shade to relax under.
A-Bay is also a favorite of Sea Turtles.
There are no lifeguards at A-Bay.
There are restaurants and a shopping center nearby.
Kua Bay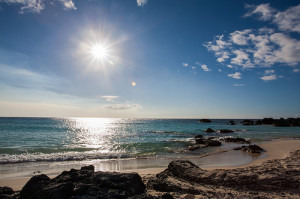 Highway 19 north of Kona between mile markers 88 and 89.
Kua Bay is a scenic white sand beach.
The drive is nice too.  You'll be driving through what seems like an endless lava rock field. When we were there the waves were fantastic.
For all you ocean animal lovers, there is a very good chance you'll see Sea Turtles, Dolphins.
During winter months you'll be able to see whales breaching in the distance.
People who discover Kua Bay beach LOVE this beach.  In fact, the locals used to call it the secret beach because there was easy way to get there.  But eventually, as it grew in popularity the state of Hawaii built road access to it and added a parking lot and shower and restrooms facilities and a picnic area.
The beach at Courtyard King Kamehameha's Kona Beach Hotel
There is a nice little lagoon where you can swim or snorkel.
There are a ton of people sunbathing.
Great location, right in the middle of the shopping/bar/restaurant district.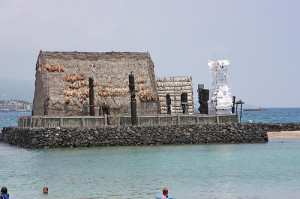 Ahuena Heiau
It was the personal heiau of King Kamehameha the Great.
King Kamehameha I lived here and ruled his kingdom from here.
Remember this is restored structure that is very important to Hawaiians. Respect this area, don't remove anything.
SHOPPING/DINING/DRINKING IN KONA
Ali'i Drive
Ali'i Drive is the shopping/eating/drinking district of Kailua-Kona.
There are tons of great restaurants, bars and shops.
This is also a great place to catch the famous Kona sunset.
You may even see a green flash during sunset.  This is happens on cloud-free days when the sky is blue.  As the sun sinks on the horizon, the bright yellow color from the sun meets the bright blue of the sky and makes the color green.
POLL RESULTS
How often have you visited Hawaii?
2 to 4 visits (56%)
I have never visited (22%)
1 visit (11%)
5 to 10 visits (11%)
More than 10 visits (0%)
NEW POLL

Loading ...
SAVE THE SEA TURTLES INTERNATIONAL
If you are a regular listener to The Hawaii Travel Podcast, you have no doubt heard us talk about Save The Sea Turtles International on just about every episode we have done so far.  Many years ago the people at Save The Sea Turtles International came to the realization that children were going to make the biggest difference for the fu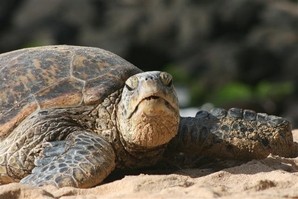 ture of our oceans and our planet.
In fact, throughout the years Save the Sea Turtles International has achieved its goals by bringing dedicated educational and ocean conservation programs to the children at schools and beaches throughout the world.
Along with rescuing them when hurt or entangled in nets and fishing line, Save The Sea Turtles International started cleaning beaches on a regular basis.
Then they began cleaning the highway near beaches and Adopt a Beach Hawaii was born.
To learn more about Save the Sea Turtles, visit our website at http://savetheseaturtlesinternational.org
And, to learn more about Adopt A Beach, visit http://adoptabeachhawaii.org
IF YOU LIKED THIS, PLEASE SUBSCRIBE!

PHOTO CREDITS: