Booking Strategies, Meet A Monk Seal, Maui's Swap Meets : Show 12

Podcast: Play in new window | Download
Subscribe: iTunes | Android | RSS
Advice on how far in advance to book your trip to Hawaii to ensure you get the best flight and hotel deals, where to see zoos, aquariums and more on Oahu, some tips for people looking for swap meets and flea markets on Maui and more can be found in this episode of The Hawaii Travel Podcast.
BOOKING STRATEGIES
Jeff from Detroit called in with this voicemail…
Hi, I just found your website/podcast and it looks great. I've got a question for you. This is Jeff in the Detroit area. And, I'm planning a Hawaii trip–my first Hawaii trip–for this September–my wife and me. And I'm curious at to when would be a good time to book a trip to Hawaii for September, how soon should it be done, in order to not book it too early and maybe overpay because some rates may go down, but not book it too late and risk being shut out of good rates or good hotels of what I might want. So, if you've got some general guidelines for that, that would be great. Thank you.

An article at MarketWatch identified the "Sweet spot" of the best time to book airline tickets.    For domestic flights they recommend purchasing your tickets 49 days before your departure and for international flights they recommend 81 days before your departure.
Tripstarter
The Hotwire team has come up with this nifty tool that charts the historical average airfares for your flight routes.  Simply enter your departure and destination, and Tripstarter will tell you the average price of tickets each month for several years.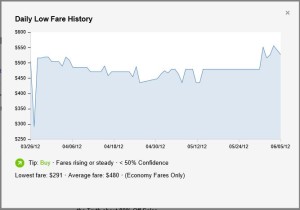 Price Predictor
The Price Predictor is a fantastic tool that will help you decide if you should Buy, or Wait To Buy your flights.  It acts almost like a crystal ball and can help you save money on your flights.
Use Flexible Dates
One more tool is to use the "Flexible Dates" options in the various flight search engines (Kayak.com, Expedia.com etc).  By saying your dates are flexible, these sites will usually show a calendar of the entire month showing which days are the cheapest to travel.
OAHU ZOOS AND AQUARIUMS
Our next question came in from via email from Nicole. She writes…
Hi Jennifer and Dan. I am loving your podcast. I have the perfect question for you two – I think. I also love animals and I notice a lot of your episodes you talk about sea turtles and whales and the like. My friend and I are traveling to Oahu on March 18 and we will be there for 4 days. One of the days we would love to experience animals and marine life. I don't think we want to snorkel. Are there any marine centers, zoos or public aquariums we can visit? And, would it be possible to schedule all of them on the same day? Thank you.
-Nicole from Chandler, AZ
Waikiki Aquarium
University of Hawaii-Manoa
2777 Kalakaua Ave
Honolulu, HI 96815
Phone (808)923-9741
General Admission:
$9 – Adults
$4 – Youth (13 to 17)
$2 – Junior (5 to 12)
Children under 4 free (*Must be accompanied by an adult)
Military and senior discounts available.
The Waikiki Aquarium would be a great place to start to explore some of the spectacular Hawaiian marine life.  Although this is a very small aquarium, it is a fun way to spend an hour or two, and is perfect for all ages.   Short walking distance from most Waikiki hotels.  Look at the colorful Hawaiian reef fish, and examine the sharks in the Shark Tank.
They also feature special events like Meet the Monk Seals! on Tuesday, March 19, 2013 at 3:00 pm.  Tickets for the event are only $4 for members of the aquarium or $6 for non-members.
The Waikiki Aquarium is small, but wonderful.  The average person can easily explore the entire aquarium in about an hour.  But, if you do take advantage of the audio tour, you can even spend more time there because the audio tour is very detailed and has a lot of stuff.  So, if you want to have a good time and get it done fast, skip the audio tour, for a longer visit without, opt for the audio tour.  Either way, you will have fun!
The Honolulu Zoo
Located between the slopes of Diamond Head and Waikiki at the corner of Kapahulu Avenue and Kalakaua Avenue (in Kapiolani Park).
Phone: (808) 971-7171
General Admission
$14.00 – Adult 13+
$6.00 – Children 3-12 yrs.
FREE – Children 2 and under
Military and resident discounts available.
The Zoo is open daily from 9:00 am to 4:30 pm.
If you are into zoo's the Honolulu Zoo may be for you.  This is a small zoo, so it shouldn't take more than a couple of hours to explore.  The Honolulu Zoo  features animals from Aardvarks to Wart Hogs, as well as an impressive collection of birds and reptiles.
Like the Waikiki Aquarium, this is a small zoo.  You may need to adjust your expectations.  This is not a zoo like the San Diego Zoo.  This is a small zoo resting on 220 acres of Kapiolani Park.  This is in walking distance to all of the Waikiki hotels and activities.
Combining both the Waikiki Aquarium and the Honolulu Zoo can easily be done in about 3 or 4 hours and would offer you a fun, educational opportunity to explore wildlife up-close and personal.
Explore Hawaii's marine life via a submarine
Atlantis Submarines offers submarine tours on both Oahu and The Big Island.  This is a nice option for people who want to experience sea life without snorkeling.
MAUI SWAP MEETS AND FLEA MARKETS
On episode 5 of the Hawaii Travel Podcast we talked about the  Aloha Stadium Swap Meet & Marketplace in Honolulu.  Oahu isn't the only island that features swap meets.  We also wanted to feature some of your Flea Market options while visiting Maui.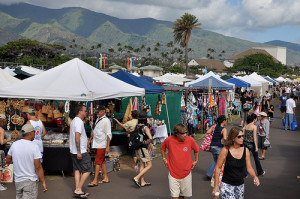 We have three options for you.
The first place to check are the local consignment shops and second-hand stores in the area you are staying.
Maui Swap Meet
The Maui Swap Meet is located in Kahului and is open every Saturday from 7am to 1pm. Admission is only 50 cents (children get in free).  Get everything from antiques, souvenirs to crafts and even food including locally grown produce and baked goodies.
Maui's Own Gift And Craft Fairs
Maui's Own Gift And Craft Fairs takes place at the Lahaina Civic Center on Sundays.  Visit their website to get their latest schedule.  The craft fairs feature a nice selection of arts and crafts from Maui artists as well as refreshments.
NORTH SHORE BEACH CLEAN-UP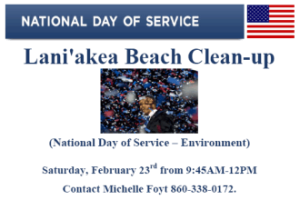 Join the volunteers from Save The Sea Turtles International on Saturday, February 23rd from 9:45 AM-12 PM for their Lani'akea Beach clean-up. Meet at 9:45 AM for coffee, doughnuts and orientation. All supplies are provided.
They will gather at 61529 Kamehameha Highway. There's a large turtle on the gate. Park across the street or on Pohaku Loa Way.
Directions: From Honolulu, take the H-2 to state road 99, continuing onto state road 83. From the traffic light on 83, continue 1.5 or so miles to 61529 Kamehameha Highway. Park across the street or on Pohaku Loa Way. Look for the gate with a big front face turtle. If you're driving from Honolulu, please allow 45 minutes.  Visit Save The Sea Turtles International for more info.
IF YOU LIKED THIS, PLEASE SUBSCRIBE!