Priceline Survival Tips, Waikiki Water Sports And Oahu Food Tours : Show 13

Podcast: Play in new window | Download
Subscribe: iTunes | Android | RSS
Priceline Survival Tips, A Really Fun Waikiki Water Sport Adventure And Two Oahu Food Tours And More Can Be Found In This Episode Of The Hawaii Travel Podcast.
WATER JETPACK FUN IN WAIKIKI
Our first question came in via email from Jesse in Fort Lauderdale—just days before our trip.  He wrote:
Dear Dan and Jennifer,  I hope this email isn't too late.  You asked for idea suggestions for possible activities to review on your upcoming trip to Hawaii.  Would you be willing to try the water jet pack device?  It looks very fun and a little scary at the same time.  My wife and I are taking bets that you won't do it–I know you are both afraid of heights.  Both my wife and I think Jennifer would strap one of these on her before you would.  Let me know if you will do it.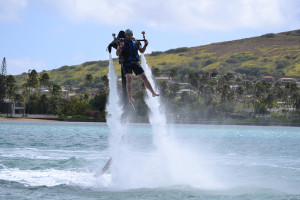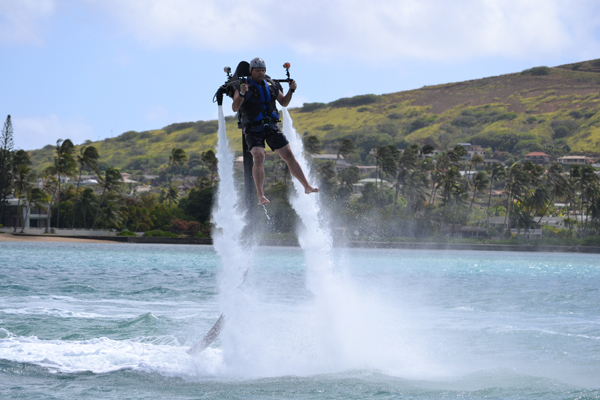 We were lucky enough to try the JetLev water jet at H2O Sports powered by SeaBreeze at Maunalua Bay near Diamond Head.  Because Jennifer is pregnant, she couldn't participate in the actual JetLev experience–so Dan did it and loved it!  Jennifer watched Dan fly by as high as 12 feet from water.  According to Dan, learning to fly was an exhilarating, a once-in-a-lifetime experience–and he felt safe the entire time thanks to expert guidance of his instructor Tony.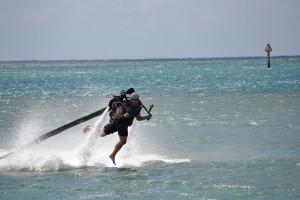 The staff was great, professional, and friendly, and the memories will last forever. A definite recommendation! And, we suggest ordering the photos/video of the experience so you can relive the fun you had over and over again: http://www.h2osportshawaii.com
You may be able to experience the JetLev in an area near you.  Check out their site to see other locations:  http://www.jetlev.com
QUESTION OF THE WEEK
Our question of the week:  Have you ever done any extreme water sports (or would you ever do any) while vacationing?  If so, let us know in the comments section of this episode's show notes at hawaiitravelpodcast.com/show13
PRICELINE TIPS
Our next question came in via email from Walter in Oconomowoc, Wisconsin.  He writes:
Dear Dan and Jennifer, I am planning a trip to Honolulu in May of this year.  This is our first major trip in over a decade.  In the past, we would use my wife's friend who was a travel agent.  This time we want to use Priceline and handle it ourselves.  We have never done anything like this.  Is Priceline safe?  Can you really get good deals on flights and hotels and rental cars?  Any tips for first-timers would be great.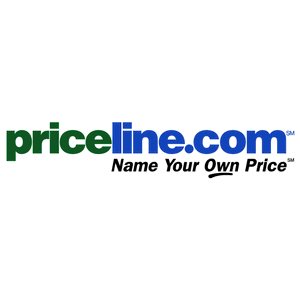 Priceline can be a great place to get great deals on flights, cars, and hotels.  The biggest tip we can give you is to double check your information before you commitment to buying tickets–because as soon as you press the "submit" button, you may be locked into the deal.
Do not rely solely alone on the reviews on Priceline's site when booking hotels.  Instead, go to other sites like Trip Advisor before booking a hotel on Priceline.  If the reviews are good on Trip Advisor, you can feel pretty good about your booking.
To get the best price on Priceline, go to a site like Expedia or Kayak and get an idea of what the airline ticket will cost.  Then, go to Priceline and try to name your price at about 60% of that price.  If it works, great–if not, add another $50 and try your luck again.  Keep doing that until they accept a price.  Priceline may put limits on you doing that 2 or 3 times a day.  Don't get discouraged. You will eventually get a price that sticks and you're happy with.
When booking a hotel, you may need to cancel.  Each hotel has different cancellation policies.  On our recent trip, we had to cancel our hotel reservation and faced a $50 cancellation fee.  Luckily Jennifer came up with her "blame-it-on-the-dummy" technique.  Read on to discover how to do this yourself.
Sometimes you will have to cancel your hotel reservation.  In our case, we had to cancel because the reviews on Trip Advisor didn't jive with the reviews on Priceline–so we decided to cancel instead of risking sleeping in a cockroach-infested hotel.  After calling Priceline and finding out that there would be a $50 cancellation fee, we decided to call the hotel directly.  In our case, Dan called the hotel and threw himself at their mercy (the "blame-it-on-the-dummy" technique). He said he made a horrible, dumb mistake—telling them that he had mistakenly double-booked.  They ended up feeling sorry for him and didn't charge the credit card, saving us from paying the $50 cancellation policy.  Of course, if we would have had to pay the fee, it would have been okay, as it was our fault for only trusting the Priceline reviews before we bought.
FOOD TOURS ON OAHU
Our third question came in via our website from Christopher in Alberta.  He writes:
Aloha guys.  Thank you for your fantastic show.  You must have the best job in the world.  I really want to tour the Mauna Loa nut farm, but that is on the Big Island and we are going to Oahu instead.  Do they have anything like that there?  If not, can you recommend any other fun food activity we could do there?
Before we talk about some fun Oahu food activities, we want to update our recommendation about visiting the Mauna Loa Mac nut farm on the Big Island.  On episode 3 of The Hawaii Travel Podcast, we recommended visiting the Mauna Loa nut farm.  After visiting the farm a few days ago, we have decided to not recommend visiting them. Our trip there wasn't fun and their stingy sample policy turned us off completely. Instead, we recommend Menehune Mac.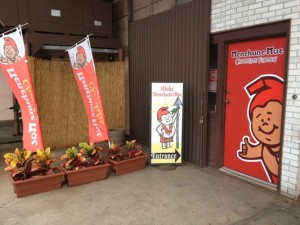 Menehune Mac
707A Waiakamilo Road
Honolulu, HI 96817
Phone: 808-841-3344
Menehune Mac is Honolulu's wonderful hidden food activity.  We discovered this small chocolate factory after Jennifer found their products at a small shop in Waikiki last year.  Their chocolates truly are wonderful and they have plenty of free samples (more than we could even sample!).  They also offer a wonderful tour of their actual working chocolate factory.  You can take the tour and learn how to make chocolate (and even make your own box!).  The staff is extremely friendly and excellent. Our only complaint is that our stomachs were too small to taste all of the samples and our time was too short to tour of the factory.  It's a must do if you're in Honolulu!
The people at Menehune Mac recommended we checkout the Hawaiian Chip Company.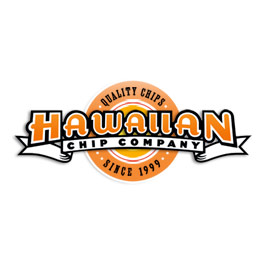 Hawaiian Chip Company
1928 Republican Street
Honolulu, Hawaii 96819
Phone: (808) 845-9868
Hawaiian Chip Company offers really tasty taro and sweet potato chips.  Not only are the chips fresh, but you can actually create your own toppings and seasonings!
BEACH CLEAN-UPS
People sometimes ask us what a beach clean-up is like, and if they really do any good.  The state of Hawaii has drastically cut its funding for beach upkeep.  If not for the monthly beach clean-ups (like those put on by Save The Sea Turtles International), Hawaii's beaches would look very different.  In fact, we wanted to share some statistics from the month of January (courtesy of our friends at Save The Sea Turtles International).
In January of this year, Save The Sea Turtles International had 144 volunteers. They picked up:
10,577 cigarette butts
1,184 pieces of plastic
887  bottle caps
836 food wrappers
For more information on how you can help, check out their website at http://www.seaturtlesinternational.org/
IF YOU LIKED THIS, PLEASE SUBSCRIBE!