Volcanoes National Park and Kauai Traveling Tips : Show 14

Podcast: Play in new window | Download
Subscribe: iTunes | Android | RSS
Tips About Traveling To Kauai And What To Explore At Volcanoes National Park And More Are Featured In This Episode Of The Hawaii Travel Podcast.
KAUAI TRAVELING TIPS
Our first question came in from a listener via voicemail. He is planning a trip to Kauai and is looking for some advice:
Hey guys, great show.  My wife and I are planning on heading to Hawaii soon.  We're thinking of heading to Kauai.  We wanted to know if you had any suggestions as to where to stay in Kauai and what sort of activities would be perfect for us.  We would like to walk and travel around Kauai, and kind of keep the activity on the light side.  I am an avid scuba diver and snorkeler.  Any suggestions would be great, and we look forward to the next show.
Kauai has four sections:
SOUTH SHORE REGION
Poipu is the place to visit and/or stay on the south side of the island.  It is dry and sunny and has beautiful beaches.
Places of interest in the southern region of Kauai:
Poipu Beach Park Beach Park
Poipu Beach Park Beach Park is a beautifully spectacular beach.  You would be hard pressed to find a better beach for snorkeling since it is usually always calm.
Spouting Horn Park

Spouting Horn has a beautiful blowhole and offers spectacular sunrises and sunsets.  The blowhole is an old lava tube on the coast where the water rushes through it and blows really high (sometimes as high as 50 feet).  Great photo op if you can time it right! Spouting Horn Park is in the Poipu area.
Old Koloa Town
Just a bit north from Poipu Beach is an old plantation town to check out. This is where Hawaii's first successful sugar mill started.  A lot of cute little shops and restaurants.
Koloa Mill Ice Cream & Coffee
A nice bakery where you can get refreshing iced Kauai coffee, espresso, and other coffee drinks.  They also have a nice ice cream selection–including vanilla macadamia nut ice cream!
EAST COAST REGION
This region is also known as the Coconut Coast and is the most populated area of the island.  It is our pick if you are on a budget because there are a lot of discount condos, hotels, and B&Bs (of course, make sure to check out Internet reviews first before booking!).
Places of interest in the east coast region of Kauai:
Fern Grotto

Wailua Marina, at the mouth of the Wailua River; turn off Kuhio Hwy. (Hwy. 56) into Wailua Marine State Park
Located off the Wailua River, Fern Grotto is a lava rock grotto covered with beautiful tropical ferns. Bands often play there because it is like a natural amphitheater. The sound is amazing!
Menehune Fishpond, Lihue

Remember we talked about Menehune briefly in Episode 7? The story goes that the Menehune inhabited Hawaii before any settlers from Polynesia came to the land.  Legend has it that the Menehune built structures like this fish pond–or heaius–and roads in one night.
Kapaa Town
For shopping in the area, you can visit Kapaa Town.
NORTH SHORE REGION
Beautiful mountains and stunning sea cliffs.  This is the Na Pali Coast.
Places of interest in the north shore region of Kauai:
Hanalei Town
Not a big town, but an exclusive place to live.  Hanalei town offers some decent restaurants and shops.
If you like more of the touristy types of places, you might want to check out Princeville.
Kilauea Lighthouse

Kilauea Lighthouse sits on the northernmost tip of the island.  This is a must-see for two reasons. First, the views are crazy beautiful, so make sure you bring your camera.  Second, if you are like us and love animals, this is the home of the Kilauea Point National Wildlife Refuge.  You'll see a billion types of birds here. And, depending on the time of year you visit, you may even see whales out in the waters.
There are two great snorkeling beaches on the north shore.
Ke'e Beach
Ke'e Beach is a very popular and beautiful area for snorkeling because it is a protected lagoon full of tropical fish. It can get pretty crowded sometimes.
 Makua Tunnels
The film "South Pacific" was filmed here
It's a big horseshoe shaped reef (which is why the snorkeling is so exceptional)
It is probably the only beach on the north shore that is somewhat protected, so the waters are almost always pretty calm
This is where teen surfer Bethany Hamilton lost her arm to a shark
WEST SIDE REGION
Places of interest in the West Side region of Kauai:
Waimea Canyon is known as the Grand Canyon of the Pacific
Waimea Town
Hanapepe Town
QUESTION OF THE WEEK
Admittedly, this is a weird question of the week, but here it is: "What do you most want in a hotel bathroom?"
We recently stayed in a popular Waikiki hotel that had–in our opinion–the worst bathroom ever designed by man. We would like to know what you most look forward to in a hotel bathroom–what's acceptable and what's not. We are also looking for hotel bathroom horror stories.  Scroll down to the comments section of this episode's show notes at hawaiitravelpodcast.com/show14 and let us know.
EXPLORING VOLCANOES NATIONAL PARK
Our next question came in via email from Brett and Jodi from Columbia, Missouri.  They write:
We are headed to Volcanoes National Park on the Big Island.  This is our first visit back to Hawaii since my wife and I were married in Maui 12 years ago. We used the price predictor site you mentioned, and October seems like a great time to go. Any suggestions for things at or near the park we shouldn't miss? Hikes, restaurants, waterfalls, etc.  We will be on the island for 5 days.
The price predictor site Brett mentioned is from Episode 12 and is called TripStarter from HotWire.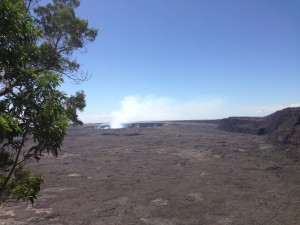 What to explore in the park:
Lodging In The Park:
Hawaii Volcano House cabins and resort
Dress properly at Volcano, especially at Thomas A. Jaggar Museum.  It can get cold, windy, and wet.  You may want to visit Volcano's secret gem–the True Value Hardware store–where we picked up ponchos for less than $3 each.
Eat before visiting the park.  We found a great, cheap little roadside sandwich stand called Cafe Ohia in Volcano.  It is located at 19-4005 Haunani Road, Volcano, HI  96785
PACIFIC GARBAGE PATCH / MIDWAY FILM
Have you ever heard of the Pacific Garbage Patch?  It is basically a floating island of plastic in the Pacific Ocean.  The size has been compared to twice the size of the continental United States.  It takes up an estimated 8% of the Pacific Ocean and is one huge giant floating island of plastic trash which is thought to come from waste discarded by boats and ships, offshore dumping, litter and trash on beaches, and waste washed out to sea by rivers. We bring this up because it is the subject of a film we would like to raise awareness of.  We are trying to get filmmaker Chris Jordan on to discuss a movie he made called Midway.  It is about the tiny island of Midway in the Pacific that played a pivotal role in WW2 and is nowadays the home to albatrosses. These birds end up eating undigestible plastic from the Pacific Garbage Patch, which takes up room in their stomachs and they eventually starve to death. Go watch a brief clip of this movie at http://www.midwayfilm.com. It is tough to watch, but it underscores the importance of beach cleanup groups like Save The Sea Turtles International.  For more information on how you can take part in monthly beach cleanups on Oahu's north shore, visit http://www.seaturtlesinternational.org/
IF YOU LIKED THIS, PLEASE SUBSCRIBE!

Post Tagged with
Cafe Ohia
,
Chris Jordan
,
Coconut Coast
,
Crater Rim Drive Tour
,
Fern Grotto
,
Hanalei Town
,
Hanapepe Town
,
Hawaii Volcano House
,
Kapaa Town
,
Kauai
,
Kauai Traveling Tips
,
Ke'e Beach
,
Kilauea Iki Trail
,
Kilauea Lighthouse
,
Kilauea Point National Wildlife Refuge
,
Kilauea Visitor Center
,
Koloa Mill Ice Cream & Coffee
,
Lihue
,
Makua Tunnels
,
Menehune Fishpond
,
Midway
,
Na Pali Coast
,
Old Koloa Town
,
Pacific Garbage Patch
,
Poipu
,
Poipu Beach Park Beach Park
,
Princeville
,
Spouting Horn Park
,
Thomas A. Jaggar Museum
,
Thurston Lava Tube
,
TripStarter
,
Volcanoes National Park
,
Waimea Canyon
,
Waimea Town