Hanauma Bay Nature Preserve, Oahu Memorial Day Weekend, And Merrie Monarch Festival: Show 18

Podcast: Play in new window | Download
Subscribe: iTunes | Android | RSS
The Hawaii Travel Podcast, show number 18 for Tuesday, April 9th 2013,  We explore the fantastic Hanauma Bay Nature Preserve, We'll tell you how to have a Memorial Day Weekend To Remember while visiting Oahu, a quick Merrie Monarch Festival update, and beware of the dreaded Box Jellyfish!
HAWAII TRAVEL PODCAST'S HAWAII TRAVEL POLL
Remeber to vote in our new Hawaii Travel Podcast's Hawaii Travel Poll.  This week's question is…
After airfare and lodging is factored in, where do you spend the majority of your money while visiting Hawaii?  
And your choices are:  Food, Drinking, Tours, Activities, Rental cars, Transportation, Massages or spas, Shopping or Other
Make your voice heard!  Vote now at http://www.hawaiitravelpodcast.com/poll and we'll discuss what you and your fellow Hawaii Travel Podcast listeners had to say in an upcoming episode.
MERRIE MONARCH FESTIVAL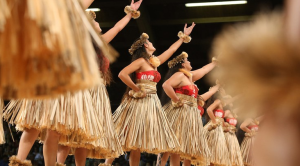 This year was a first for the Merrie Monarch Festival. In years past you could stream the festival over the Internet.  This year marked the first time mobile devices, like the iPhone/iPhone etc could stream the event.
The Merrie Monarch Festival is a week-long cultural festival that highlights Hula dancing that takes place each year in Hilo, on The Big Island. It honors King David Kalakaua.  The dancers are top notch.  You can watch clips here:
http://www.k5thehometeam.com/category/260043/the-2013-merrie-monarch-festival-on-kfve
HANAUMA BAY NATURE PRESERVE / BOX JELLYFISH
Our first question came in via email from Colleen.  She  wrote in with a question about Hanauma Bay Nature Preserve and was understandably a little spooked….
Aloha Dan and Jennifer!  I was excited to visit Hanauma Bay Nature Preserve on Oahu in two weeks until my cousin called me to inform me that they closed the beach due to Box Jellyfish stings.  I have a few questions.  How common are these Box Jellyfish?  Do you think Hanauma Bay will be open when I am there?  Should I go somewhere else?  I have heard so much about Hanauma Bay for snorkeling but now I am having second thoughts.
Box Jellyfish are no fun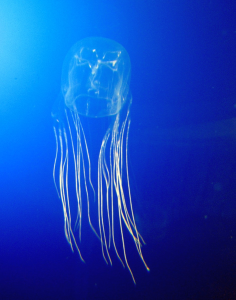 Box jellyfish are a translucent pale blue color.  Because of their color they are often very hard to see in the water.
When do box jellyfish show up?  Somewhat regularly, and it appears they show up in schools anywhere from 7 to 12 days after a full moon.  And guess what?  We just had a full moon back on March 27, and Hanauma Bay was closed 9 days later.  They come near the shore to spawn.
How to avoid them?  Be aware.  When there are big schools of box jellyfish, it is usually mentioned on the local news.  So, when you get to your hotel, turn on the TV watch the news  for a bit.  Second, ask around.  Ask the people working at the hotel.  ask the local lifeguards. Nobody wants to get stung by one of these critters, so when they show up it usually generates some news buzz.  The fact that you are asking about it is proof positive.  Also, don't touch a dead jellyfish.  They can sting even after they are dead on the beach.
FREEBIE
We created a downloadable PDF file of our 2013 Hawaii Jellyfish Forecast Calendar.  Go grab a copy over at http://www.hawaiitravelpodcast.com/goodstuff
One more thing.  On an episode of Friends, Monica got stung by a jellyfish and Joey urinated on her because they thought it ease the pain.  Don't pee on your wife's jellyfish sting, don't pour vinegar on it, don't put meat tenderizer on it.  Don't rub it.  None of it works. Go to a doctor.
It has been over a year since they had to close Hanauma Bay due to box jellyfish,but they do of course show up from time to time, and, they reopened the following morning.
Now, let's talk about the awesomeness that is Hanauma Bay Nature Preserve:
Hanauma Bay Nature Preserve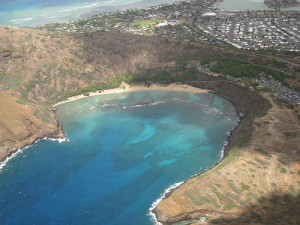 7455 Kalaniana'ole Hwy.
Honolulu, Oahu, HI 96825
Recorded Information Line (808) 396-4229
Parking is $1 per vehicle.
$7.50 admission,  kids 12 and under free.  Hawaii residents 13 and older get in free with valid ID.
Not a beach park but a Nature Preserve.

The City and County of Honolulu has gone and continues to go through a great effort to reverse years of abuse and neglect. That's why each day only 3000 people are allowed to visit the preserve.  3000 may seem like a big number but there was a time, when 10,000 people were allowed in each day.

The bay itself is actually the floor of a dormant volcanic crater that you can snorkel.

You can see sea turtles, sharks, squid, of course the beautiful coral.  The preserve is home to many beautiful tropical fish, including one you'll probably see the Humuhumunukunukuapua'a fish also called humuhumu for short; meaning "fish that grunts like a pig"  because that is apparently the sound it makes when cornered.

Marine Education Center

Ideal for snorkeling

10 minute educational video

It's against the law to touch the coral heads

The Toilet Bowl is a natural spa located on the left side of the bay.
Get there early. The preserve opens at 6:00 AM.  Of course the closer to 6 that you get there, the better chance you have getting a parking spot and avoiding the hot sun and the big crowds.
MEMORIAL DAY WEEKEND ON OAHU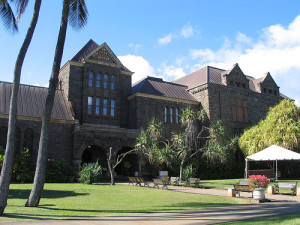 Memorial Day weekend is coming up, and if you are going to be on Oahu, there are a couple of really nice ways to spend it.  First, you can attend the Two Museums and a Royal Palace Weekend.
The Bishop Museum

The Honolulu Museum of Art

The 'Iolani Palace
We have talked about The Bishop Museum before in episode 7, We talked about the 'Iolani Palace in episode 9.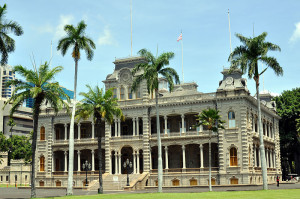 Even if you are not going to be on Oahu during the Memorial Day weekend, all of these are great places to checkout.  Of course by taking advantage of the Two Museums and a Royal Palace Weekend deal, you can save a lot of money,  $19.95 gets you into all three places over two days (residents get in for $10).  Normally, if you were to visit all of these on their own it would come out to over $50, so it is a healthy savings.
A few points about the Two Museums and a Royal Palace Weekend… 
First, after you get your tickets, you can start in either the Bishop Museum, the 'Iolani Palace, or the Honolulu Museum of Art.   The pass allows unlimited entry to all three locations during the two days leading up to Memorial Day.  Very flexible.

Each of these locations is very different.

The Honolulu Museum of Art features some beautiful displays with art from van Gogh, Monet, Picasso and Warhol, as well as traditional Asian and Hawaiian art.

The Bishop Museum, of course is home of the world's largest collection of Hawaiian and Pacific artifacts and natural history pieces.  Wonderful museum.

The 'Iolani Palace is the only official residence of royalty in the United States, and it is beautiful!

This event is put on by the Hawai'i Tourism Authority.
PEARL HARBOR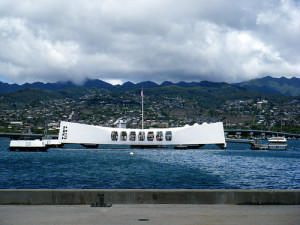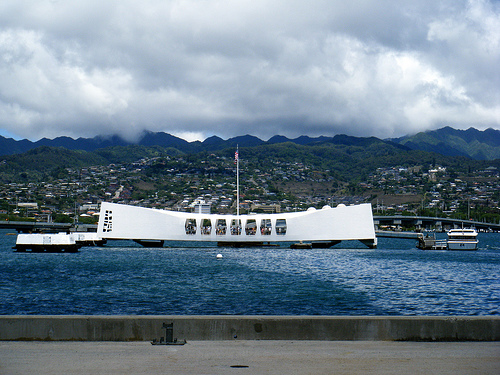 Of course another thing you can do during memorial Day weekend on Oahu to is visit Pearl Harbor.  Last year on Memorial day, the USS Arizona Memorial celebrated its 50th anniversary.  This of course is a wildly popular thing to do while visiting Honolulu.
The tickets are very affordable, but they do go fast, so jump online and get your tickets as early as possible.
There are a lot of things to see here.  Options for reservations include the USS Arizona Memorial, WWII Valor in the Pacific National Monument's official audio tour, and the Passport to Pearl Harbor, which includes tickets to the Battleship Missouri Memorial, USS Bowfin Submarine Museum and Park, and the Pacific Aviation Museum.
Tickets and more in can be found at http://www.nps.gov/valr/planyourvisit/index.htm
IF YOU LIKED THIS, PLEASE SUBSCRIBE!

Post Tagged with
'Iolani Palace
,
Battleship Missouri Memorial
,
Bishop Museum
,
Box Jellyfish
,
Hanauma Bay Nature Preserve
,
Honolulu Museum Of Art
,
Humuhumunukunukuapua'a fish
,
Merrie Monarch Festival
,
Oahu Memorial Day Weekend
,
Pacific Aviation Museum
,
Passport To Pearl Harbor
,
Pearl Harbor
,
Quick Tip
,
Uss Arizona Memorial
,
Uss Bowfin Submarine Museum And Park
,
Wwii Valor In The Pacific National Monument