Hawaii Halloween Events, Diving The Molokini Crater : Show 43
October 29, 2013

/

Posted in Podcast

/

By Menehune Webmaster

/

Comments Off

on Hawaii Halloween Events, Diving The Molokini Crater : Show 43

Podcast: Play in new window | Download
Subscribe: iTunes | Android | RSS
The Hawaii Travel Podcast Show 43 for Tuesday October 29th 2013.  On this episode we'll talk about Halloween Events In Hawaii, diving the Molokini Crater, and what to do if a shark is trying to eat you.  All that and more, on this episode of the Hawaii Travel Podcast.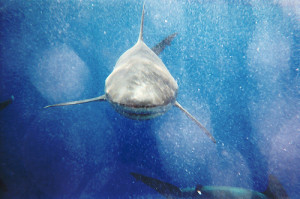 It turns out it isn't a wive's tale.  If s shark is attacking you, try bonking him (or her) on the head. It worked for 25 year old surfer Jeff Horton in Hawaii last week.  He was 200 rads from shore waiting for waves to come in when the shark came up and took a bite from his board.
Read more about here:
http://travel.aol.co.uk/2013/10/23/surfer-escapes-hawaii-shark-attack-punching-animal-face/
HALLOWEEN EVENTS IN OAHU
Two fun and scary things to do this Halloween season!
Haunted Plantation
Hawaii's Plantation Village
94-695 Waipahu Street
Waipahu, HI  96797
Phone: (808) 677-0110
–Zombie Hayride
56-250 Kamehameha Hwy
Laie, HI 96762
Phone: (808) 293-2026
Check websites for hours, locations and ticket prices.
MOLOKINI CRATER DIVE
Celina from Bothel wrote in…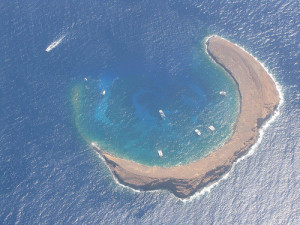 Dear Dan and Jennifer.  I am addicted to your show.  I wanted to share an activity my fiance and I did last week.  We just came from from a ten day trip to Maui.  One of the days we did a crater dive of the Molokini crater.  It was unreal!  Have you ever done this?
Just a little over two miles off Maui's southern coast.

An extinct volcano.

Awesome snorkeling since the crater shields the ecosystem from rough water.

Clear visibility.

More than 250 species of fish live there.

Since it is a protected marine and bird reserve, you must use a registered tour company to get there.

Here are some recommended companies Four Winds II is a good one.

The water is said to be clearer and calmer in the morning.

Experience might depend on weather and conditions- from poor visibility to not being able to get in the water- so be warned!
 Molokini tropical drink
After searching for a tropical drink called a Molokini and failing to find one, Jennifer decided to invent one.  Watch this space in the coming weeks.
IF YOU LIKED THIS, PLEASE SUBSCRIBE!

CREDITS:
Shark photo by WildChild1976
Molokini Crater photo by by Forest & Kim