How To Plan A Great Maui Honeymoon

Podcast: Play in new window | Download
Subscribe: iTunes | Android | RSS
This episode of the Hawaii Travel Podcast features advice for planning a great, romantic honeymoon in Maui.
IDEAS FOR A FUN, NON-ADVENTURESS MAUI HONEYMOON
Maui is a wonderful place for a honeymoon. Two listeners called in looking for ideas for their upcoming honeymoon in Maui.
Jennifer talked about some ideas in and around the Ka'anapali area:
Whalers Village is a mall with many activities including Hula shows.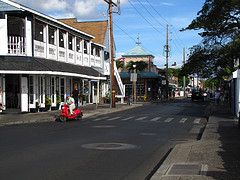 If you are looking for a fun restaurant, right on the beach where you can experience great food, some awesome tropical drinks and sand on your toes, Jen recommends Leilanis Bar & Grill.
You will be near Lahaina. You will want to explore this cute little port town. Lahaina has a colorful past as a port town where sailors would come after returning from the sea to find women and booze. The whaler culture was somewhat similar to the pirate culture. Jennifer mentioned a book written by Daily Show contributor Sarah Vowell called Unfamiliar Fishes that detailed much of Maui's history.
Lahaina is full of things to see and do from shopping to exploring several historical sites. The main drag is Front Street.
A few things to see in Lahaina are:
The gigantic banyan tree which literally takes up almost an entire city block
The old courthouse
The old prison
The Baldwin Home at 696 Front Street is the oldest building in Lahaina. It was built in 1834 and was the home to missionary and physician Rev. Dwight Baldwin. Today it is a museum and is well worth a visit.
Jennifer also mentioned some fun getaways on the North part or central part of Maui:
Kahului/Wailuku Central: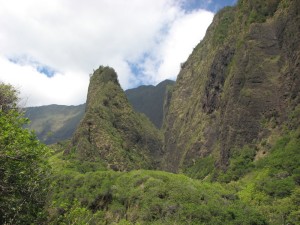 The ʻĪao Needle is surrounded by a very lovely walkway and garden of lush tropical plants. It was the site of one of the most famous battles in Hawaiian history. In 1790 King Kamehameha I defeated the Maui army in his quest to unite the Hawaiian Islands.
Haleakalā National Park covers a lot of ground and features something for everyone, from stark volcanic landscapes to sub-tropical rain forests. You'll be able to hike any of the numerous hiking trails, or just enjoy the scenery and animals   You will probably see the Nene (the Hawaiian Goose)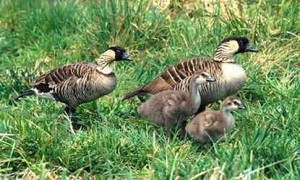 nesting, so drive carefully.
Whale watching. There is some excellent what watching off the Maui coast from November to May with February and March being the peak. The whales come from the cold Alaska waters to the warm waters of Maui.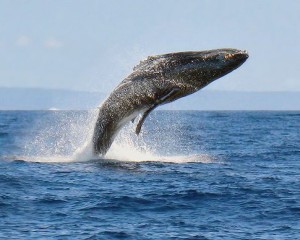 During the winter, you can see whales from shore. The best views are from Maui's south and west shores, in areas that include Makena, Wailea, Kihei, Ma'alaea, Olowalu, Lahaina, Ka'anapali, and Kapalua. The Pacific Whale Foundation has some excellent whale watching tours and other eco-cruises.
TWO TYPES OF LUAUS FOUND ON MAUI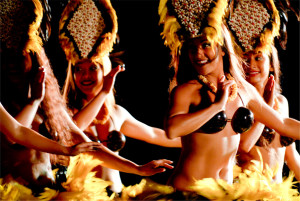 The second question asked by the honeymooners was to recommend a good luau. Jennifer suggested two Luaus, both fun, but each with a different experience.
If you want more of a fun, touristy type of Luau, consider the Old Lahaina Luau at $99. This is a fun experience with an open bar and buffet. People either sit at long tables or on the ground with long tables. You can check out the menu here. They even have a live Web Cam.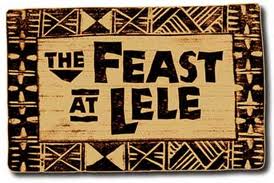 The second luau recommendation is the Feast at Lele  at $115. This luau offers a more romantic, intimate setting, the tables are smaller, the stage is smaller. Great four course meal, featuring food the different Polynesian islands. For example food from New Zealand.
HAWAII REGIONAL CUISINE
There is a big food movement in Hawaii called Hawaii Regional Cuisine. And, although it seems to be the most popular on Oahu, it actually gained a lot of momentum on Maui.
In the early 90s 12 Hawaii chefs started this culinary movement called Hawaii Regional Cuisine. In a nutshell, it takes the best that the islands offer — the freshest foods, for example, cattle raised in the Upland pastures on the Big Island, high quality fish from all of the islands, and what Maui brings to the table, is amazing mouth watering fruits and the delectable vegetables grown from the rich, volcanic soil in Upcountry Maui. And then the chefs, in the perfect balance of East meets West cooking techniques cerate these flavorful dishes. So, it's like a combing of many cultures with the tastes and flavors of Hawaii.
Hawaii Regional Cuisine can be found all over. Here are a few ideas:
Hula Grill Kaanapali
Located on Kaanapali Beach at Whalers Village, 2435 Kaanapali Parkway, Bldg. P, Lahaina
Tiki Terrace Restaurant
Award winning Hawaii regional cuisine featuring steak and seafood in an open-air setting. Hawaiian hula show nightly with dancing under the stars. Serving breakfast, dinner, and Sunday Champagne brunch. Located at 2525 Kaanapali Parkway, Lahaina (808) 667-0124
Merry Christmas and Happy Holidays from Jennifer & Dan!
IF YOU LIKED THIS, PLEASE SUBSCRIBE!