Oahu Water Activities And How To Stay Connected To Hawaii : Show 34

Podcast: Play in new window | Download
Subscribe: iTunes | Android | RSS
The Hawaii Travel Podcast Show 34 for Tuesday August 20th 2013.  On this episode we'll kick off a new segment about staying connected to Hawaii from your home, and, we'll discuss some fun water activities to do while visiting Oahu.  All that and more, on this episode of the Hawaii Travel Podcast.
OAHU WATER ACTIVITIES
Nina wrote in looking for advice on her upcoming Oahu vacation.  She writes..
Hey Dan and Jennifer! I am 13 years old and absolutely love the show!! I listen to the podcast every night when I go to bed. I have probably listened to all of them at least twice.Anyways I am going to Oahu for 10 days and I was wondering if there is any good snorkeling by the New Otani Hotel in Diamond Head? If not what are some good water activities to do there? I know u guys aren't the watersports type but if u had any suggestions I would appreciate it!
Thanks, Nina
SNORKELING SPOTS
San Souci Beach
http://www1.honolulu.gov/parks/programs/beach/sanssouci.htm
There is a great beach right in front of the New Otani hotel.  It's called San Souci Beach and it is notable for a few reasons, first it's one of the deeper water spots near Waikiki beach, second, because of the depth, the waters are calm and that makes for great snorkeling.
Kapiolani Park Beach
We think the best spot for snorkeling here is the section called Queen's Beach or Queen's Surf Beach near the Waikiki Aquarium. The reef in front of the aquarium has easy access to the beach and the waters are usually really calm and clear.
Hanauma Bay
(808) 768-3003
We did an in-depth segment about Hanauma Bay Nature Preserve on http://www.hawaiitravelpodcast.com/show18 . This is a wonderful place, for snorkeling and learning about the reef and marine life.
Kahala Beach
4999 Kahala Ave, Honolulu, HI 96816
(808) 732-5233
People don't mention Kahala nearly enough, and because people don't mention it, it isn't usually crowded.  It's a nice clear, calm beach with a man-made sandbar island just beyond the beach that you can swim out to.  Kahala beach access is just east of Diamond Head behind the Kahala Hotel and Resort. For those of you who are not staying at that resort, like you Nina, you can park at Waialae Beach Park across the street and walk down to the beach at the hotel. I quick tip, try to go to this beach during the week and you will have the beach practically to yourself.
Other stuff to do, including the JetLev is H2O Water Sports.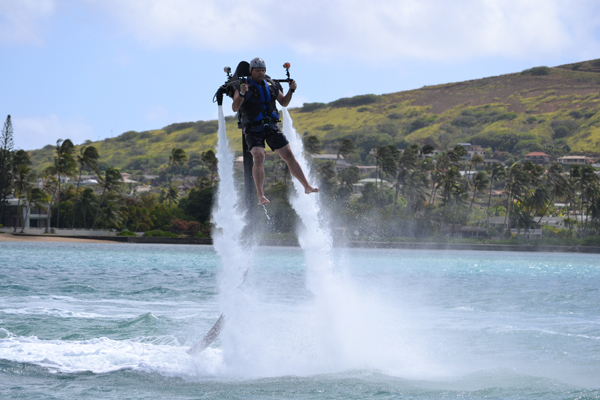 http://www.h2osportshawaii.com/
To experience the ocean without getting wet, checkout http://www.atlantisadventures.com/
STAYING CONNECTED TO HAWAII FROM HOME
New Staying Connected to Hawaii segment: This week: FOOD
Inspired by Hawaiian Week at Uwajimaya.  Got the mailer in the paper. Other ideas: recipes (apps, books, websites), Hawaiian goods stores, restaurants, luaus put on by Hawaiian clubs.  A good idea is to go to Google and search for YOUR TOWN + Hawaiian Restaurant or YOUR TOWN + Hawaiian festivals etc.
http://www.hawaii.edu/recipes/
San Diego, and in the OC http://ilovemusubi.com/poke/
Our plug thius week for http://www.monksealfoundation.org/.  Check them out, they love Monk Seals at least as much as we do!