Skydiving Adventure, Pacific Palaces, Big Island Coffee Map – Show 9

Podcast: Play in new window | Download
Subscribe: iTunes | Android | RSS
Have an exciting skydiving adventure over Oahu and Kauai, explore a few Pacific palaces fit for royalty, and, coffee snobs rejoice–check out this map of Big Island coffee hot spots. All of this and more in this episode of the Hawaii Travel Podcast.
SKYDIVING IN HAWAII
Our first question came in via email from Lawrence and Kim in New York, and it reads: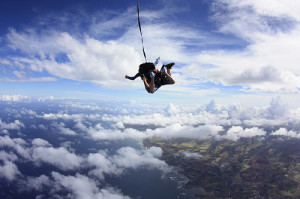 Dear Jennifer and Dan. My wife and I are big fans of the TV show The Amazing Race. In at least two seasons of the show, the teams end up somewhere in Hawaii skydiving. It looks like an extremely fun thing to do and it looks like they have companies specifically set up to offer skydiving services while in Hawaii. Can you recommend any and share prices? It can't be cheap! I don't know why I am even considering this because we are not big extreme sports people, but everyone who skydives seems to look at it as a life changing event. My wife and I have talked about this for years and we are planning a Hawaiian vacation sometime in August. Thank you. Lawrence and Kim from New York.
There are quite a few options for skydiving in Hawaii. Prices are not really as expensive as you think, and they range from about $125 to $225. You should note, however, that each company has different weight limits. For example, there is a $2 per pound charge for tandem students over 200 pounds. They may, for example, have a weight limit of 240 pounds. Make sure you do your research!
According to the FAQ at Pacific Sky Diving, the sensation of free-fall is more like flying than falling and is intensely exciting and liberating. The canopy flight is peaceful and relaxing. This sounds amazing to us!
Here are two companies we researched. One is on Oahu and one is on Kauai:
Both of these companies can arrange photos and videos of your dive. They may even be able to arrange transportation to get you to the jump site.
QUESTION OF THE WEEK: Would you ever skydive, and if so, why? Or, have you ever skydived before and how did you like it?
We definitely think skydiving would be something unforgettable, but the question remains: would you actually have the guts to do it? We would love to hear from you in our show notes for this episode, so please make sure to leave us a comment below.
PACIFIC PALACES
Our next question came in from Pamela from Sana Fe, New Mexico. She writes:
Dear Dan and Jennifer, We are going on vacation to Oahu and are interested in learning about Hawaiian history while we're there. In a past episode, you mentioned King Kamehameha III's summer palace. Are there any other places like this that we can visit?
Hawaii has many palaces to visit. Pamela mentioned our interesting hike on a hidden bamboo forest to visit the ruins of King Kamehameha III's summer palace (see Show 7). We mentioned two more palaces on this episode, as well. These are open to the public as museums and act as reminders to Hawaii's royal history.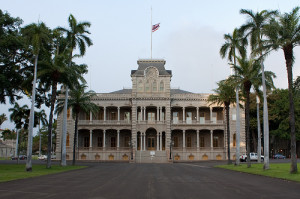 'Iolani Palace
'Iolani Palace is a National Historic Landmark located in downtown Honolulu. It was the official residence of King Kalākaua and his sister and successor, Queen Lili'uokalani. The museum is open from Monday through Saturdays from 9AM-4PM and guided and self-guided tours are available. Depending on when you are visiting, you may be able to catch special events, classes, and bands. Visit their events page.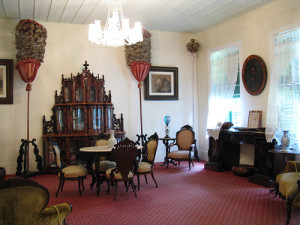 Queen Emma Summer Palace
The Queen Emma Summer Palace is the summer retreat of Queen Emma, wife of King Kamehameha IV. The museum is open daily from 9AM-4PM.  This building was almost lost to the ages, but thankfully saved and restored by the Daughters of Hawaii.
SELF GUIDED BIG ISLAND COFFEE TOUR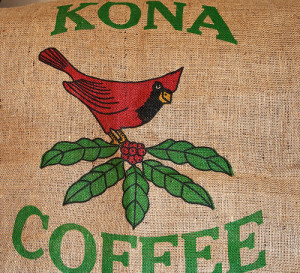 Our next questions comes from Carrie who would like a few pointers on self guided Big Island coffee tours. She writes:
Hello, this is Carrie from Silver City, New Mexico. My husband and I are 100% pure coffee snobs. We actually planed a trip a few years back and went to Costa Rica just for the coffee. I know Kona has some of the best coffee in the world. So, what farms or coffee co-ops can we tour and have samples? Thank you for your advice!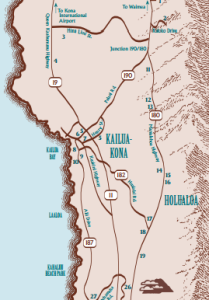 First, we recommend downloading this coffee tour map.  This map comes from the Kona Coffee Festival website. The 10-day festival started back in 1970 and is the oldest food festival in Hawaii. And, during the festival, free coffee tasting is available as well as a limited supply of Kona coffee for purchase.

Dan mentioned Greenwell Farms to get some free coffee and a free tour, but there are many, many others to choose from as well.
IF YOU LIKED THIS, PLEASE SUBSCRIBE!