The Curse Of Pele And Why You Should Never Take Lava From Hawaii : Show 41
October 15, 2013

/

Posted in Podcast

/

By Menehune Webmaster

/

Comments Off

on The Curse Of Pele And Why You Should Never Take Lava From Hawaii : Show 41

Podcast: Play in new window | Download
Subscribe: iTunes | Android | RSS
The Hawaii Travel Podcast Show 41 for Tuesday October 15th 2013.  On this episode we'll talk about Pele's Curse and why you should never remove black sand or lava stones from Hawaii.  We'll announce our Germaine's Luau trivia winner.  All that and more, on this episode of the Hawaii Travel Podcast.
Congratulations to Cathy Mathews.  Cathy knew the answer to our trivia contest and she will enjoy two tickets to Germaine's Luau — The too good to miss luau!  WAY TO GO CATHY!
Our trivia question was…
According to Hawaiian mythology, who is the goddess of snow, who lives high atop Mauna Kea and is the arch enemy of Pele?
Answer:
Poli'ahu is the Hawaiian goddess of snow, ice and cold.  And, she is Pele's enemy.  And we here at the Hawaii Travel Podcast want to always stay on Pele's good side…
 THE CURSE OF PELE AND LAVA ROCKS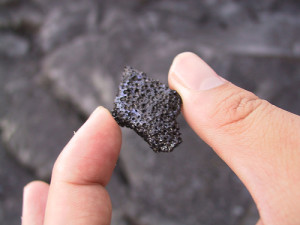 There is a curse that states bad luck will follow anyone who takes native Hawaiian minerals and rocks etc from Hawaii.  Many believe the curse comes from Pele, goddess of fire, lightning, wind, and volcanoes.  It is said Pele treats lava stones as her own children. So, if someone would take one of your kids, you would be upset too, right?
Is this week's episode Jennifer and Dan went in-depth into this legend and discussed how urban legend site Snopes even wrote about the myth.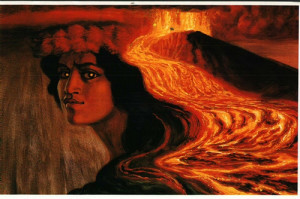 One person we found on YouTube claimed bad luck followed his friend's family after their daughter brought home black sand.  On the way back home from Hawaii, their plane was struck by lightning, there was a gas leak at home.  Their coffee grinder broke. And, they had to replace their microwave oven — twice.
Checkout these letters from the Lava Return Service's website:
Rainbow Moon
Attn: Lava Rock Return
P.O. Box 699, Volcano, HI 96785
The cost is $15 donation.
I am returning lava rocks back to their home place. We visited the beautiful island of Hawaii in June of 2001. We had loved our visit and the island so much we wanted to bring just a piece of it back with us. Unfortunately Pele didn't agree with that decision. We have had more bad luck since that time that one couldn't have in an entire lifetime. Please accept our apologies and we ask Pele for forgiveness. So with that would you please return these wonderful pieces back to their rightful place. Sincerely, T.C., Spring, TX
Mother took the rocks we think in 1983 – her first grandchild, my only daughter was murdered  by a serial killer on a College Campus in 86 – her 2nd grandchild married a mean jealous moron who causes constant problems, her 4th grandchild was crippled in an accident – my husband lost all his 401 savings in the market – my mother also lost 75% of her money.
So many people from around the globe believe in the myth, that each year hundreds of pounds of stone and sand get returned to islands to (hopefully) stop the flow of bad luck.
People send stones back to post offices, hotels and the park itself.
Supporting Articles:
 IS BAD LUCK FOLLOWING DAN?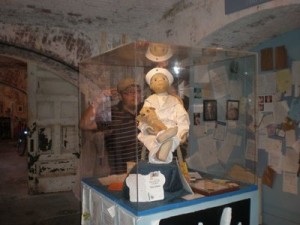 Dan described a similarly spooky myth.  Dan, Jennifer, Amy and Ben went to Key West and visited a supposedly haunted doll called Robert The Doll.  The story goes Robert is possessed and bad luck will follow anyone who who mocks him.  Of course Dan didn't believe it and mocked the doll.  On the way home they received a phone call saying Dan's dad was in a car accident, and Dan ended up in the hospital with anemia.  And, Dan and Amy's microwave oven needed to be replaced.
 Visit Robert the Doll's website here:
KAUAI ANNIVERSARY RESTAURANT SUGGESTION
Randy and Michelle emailed us with a question…
Hi Dan and Jennifer,
We are visiting Kauai in November to celebrate our 10th wedding anniversary. We don't have a ton of money, but we were hoping you could recommend a special place for our anniversary meal that is nice but not so expensive.   We'll be staying on the Southern part of the island.
 -Randy and Michelle from Ukiah, CA
Dinner only.  A historic plantation manager's home has been converted to a restaurant.  FRESH FISH IS CAUGHT DAILY BY LOCAL FISHERMEN OFF KAUAI.
Torch-lighted orchid gardens and a veranda. The menu is based on fresh, local foods: fish right off the boat, herbs and produce picked from the plantation's gardens, fruit delivered by neighborhood farmers. The result is cuisine with an island flair—seafood laulau (seafood wrapped in ti leaves and steamed)—The lilikoi cheesecake is a dream. In short, the food is excellent and the setting charming.
IF YOU LIKED THIS, PLEASE SUBSCRIBE!

CREDITS:
Lava Glass photo by by Vincent Ma
Pele Art photo by by glenasena
Robert the Doll photo courtesy of Hawaii Travel Podcast