Lanai Travel Tips And Ideas : Show 21

Podcast: Play in new window | Download
Subscribe: iTunes | Android | RSS
The Hawaii Travel Podcast, show number 21 for Tuesday, April 30, 2013.  In this episode, we'll talk about visiting the island of Lanai. We'll also discuss our favorite and least favorite hotel breakfasts.  All this, and more, on this episode of The Hawaii Travel Podcast.
LEI DAY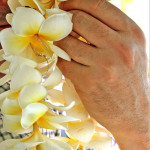 May 1 is Lei Day.  It is a state-wide celebration which is celebrated on each island.  The first Lei Day took place in 1927 and has grown each year.  There is even a song called  May Day Is Lei Day.
If you would like to make your own lei and share with someone you love, here are some instructions on how to make your own flower lei: http://www.alohafriends.com/leimaking.html
LANAI TRAVEL TIPS
Here's an email question from Greg in Seattle.  He writes:
I'm going to Maui and was wondering if I should plan a day trip to Lanai or go for a few days?
Visiting Lanai:
You can get to Lanai via the air from from various airports including Honolulu International Airport and Kahului Airport .
Lanai Ferry
Ferry trips take roughly an hour and make for great day trips.
Not your cheapest island to visit, unless it is a day trip.  Limited hotels and flights.
Here is the ferry line: http://www.go-lanai.com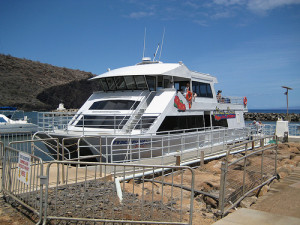 Expeditions has a ferry service from Maui to Lanai.  It travels between Lahaina and Lanai.  The tickets are $20 for kids and $30 for adults.  The ferry departs daily from Lahaina at 6:45AM and has various departures with the final departing at 5:45PM.  The ferry departs from Lanai beginning at 8AM and the final departure from Lanai is at 6:45 PM.
World class hotels and golf courses
Lanai features some world class hotels and golf courses.  The Four Seasons Resort borders a marine preserve and the views are stunning.  The contrast of a beautiful white sand beach situated against a red-lava cliff is as amazing as it sounds.  And, the golf course is equally stunning.
Lanai is also called Pineapple Island because of its past as an island-wide pineapple plantation (covering over 20,000 acres!).  The plantation employed thousands of workers, which led pineapple magnate and island owner James Dole to build a place for his workers to live. This place is known as Lanai City.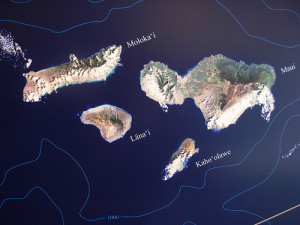 Lanai used to be owned by James Dole, and later by the Castle & Cooke corporation (who now own Dole Food Company).  What's interesting is that back in 2009, Castle & Cooke had plans to  destroy the entire historic center and build new commercial structures.  And, back in 2009, Lanai City was named one of the most endangered historic sites in America, due to its pineapple plantation history.  So you can see that Castle & Cooke and Lanai weren't always on the best terms.  But, it doesn't matter, because in June of 2012, Oracle Software CEO and billionaire Larry Ellison bought 98% of the island from Castle & Cooke for an estimated $500 million dollars.  Word has it that Ellison plans to build commercial structures, as well, but he seems to have an eye for the environment. Evidently, he wants to develop clean renewable energy sources as well as a plan for irrigating organic farms throughout the island.
Munro Trail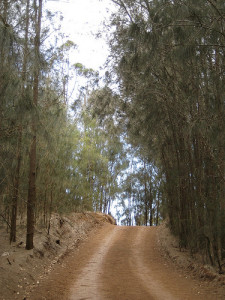 You will need a 4-wheel drive vehicle for this trail that is just under 13 miles long.  It is named after the naturalist from New Zealand George Munro, who arrived on Lanai in 1890.  You'll pass through a rain forest. One of the highlights of this trail is about two miles in, where you'll discover beautiful canyon views of Maunalei gulch as well as the chance to see five of the Hawaiian islands at once.  You should be able to see Maui, Molokai, Kahoolawe,the Big Island, and Oahu.  The trek will take two to three hours via car. We want to stress again that you should have a 4-wheel drive vehicle to make the trek.
Lanai Culture and Heritage Center
730 Lanai Ave
Lanai City, HI 96763
Phone: (808) 565-7177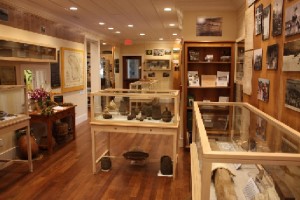 Dole Pineapple's old offices are now home to a small but interesting museum called the Lanai Culture and Heritage Center.  This museum helps illustrate the transformation of the island from "fish to pineapples to tourists". Admission is free, but donations are appreciated.
Lanai Animal Rescue Center
PO Box 63-1577
Lanai City
Lanai, HI
Phone: (808) 215-9166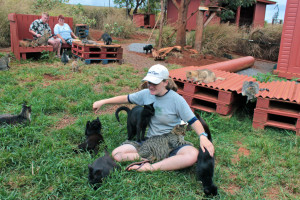 Over 100 years ago, a few cats hopped on whaling ships and made their way over to the Hawaiian islands.  Being cats, they reproduced and over-populated the islands (bad news for endemic bird species).  Many people saw cats as pests and started to poison and trap them.  That's when the people at The Lanai Animal Rescue Center stepped in, and now the cat population is under control and the bird population is much happier.
The Lanai Animal Rescue Center is a non-profit community service organization that has made it a  mission to help the homeless cats and dogs on Lanai.
Dedicated to helping homeless cats and dogs on Lanai

This is a no-kill shelter

The cats they care for come from a number of places–including cats born in the wild, stray cats and dogs, and even family pets that are given up

What is amazing about The Lanai Animal Rescue Center is that these animals are not kept locked up in cages. Instead, they live in a fenced-in, outdoor sanctuary with plenty of nooks and crannies and hiding places to play in and trees to climb

The cats live in nice kitty condos

The goal at The Lanai Animal Rescue Center was to make this environment as natural as possible

They offer unique "pet and purr" voluntourism opportunities to animal-loving people and visitors from all over the world
The Lanai Animal Rescue Center has a Pet-n-Purr Open House every Sunday between 3PM-5PM. Everyone is welcome.
Three wonderful Lanai Beaches
We will showcase three beaches on Lanai that are all amazing.  But first, lets talk about a mysterious, almost ghostly looking beach…
Shipwreck Beach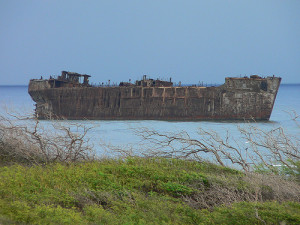 Another place you will need a 4-wheel drive vehicle to get to is an interesting beach called Shipwreck Beach.  It's called Shipwreck Beach because it's shallow rocky channels have caused quite a few shipwrecks.  But the most visible ship at Shipwreck Beach isn't there because of a wreck. Instead, this ship was provided residence on the reef because it was thought to be the most economic form of disposal.  So, why is the ship still here and not completely rusted out?  Especially after more than 50 years atop a reef?  Because it is actually made of concrete.
You'll need a 4-wheel drive to get there

Great beach for beach combing and hiking.  People swim here (there are, however, no lifeguards)

Many turtles

You may be lucky enough to see Monk Seals

This is prime whale viewing area. If you go between February and March, you will see whales breaching
Next, let's talk about a remote, white sand beach.  Polihua Beach is on Lanai's Northwestern tip.
Polihua Beach
Like most places on Lanai, you will need a 4-wheel drive vehicle to get here

This beach offers a beautiful, romantic, secluded setting

It is Lanai's longest white-sand beach–one and a half miles long

Due to strong currents, swimming isn't recommended.  Plus, the ocean floor has steep drop-offs and there are no lifeguards

Perfect place for a picnic

Great views of Molokai and even Diamond Head on Oahu if the weather is just right
On the way to Polihua Beach make sure to stop at the Garden of the Gods.

About 45 minutes from Lanai City on the end of Polihua Road, you will find a rock garden called Garden of the Gods.  It has been described as otherworldly and "moon-like".   We tend to agree.  However you describe it, this place is truly unique.  Boulders, rock towers, and spires dot the landscape.  These rock formations are the direct result of thousands of years of exposure to the elements.   The Garden of the Gods has been described as the most beautiful spot on the island.  The colors are striking and the arrangement of the rock formations are beautiful.

If you are not going to be on the beach for sunset, this is a great place to be.
Hulopoe Bay Beach
We end with the best beach on the island for swimming and the typical beach experience–Hulopoe Bay Beach: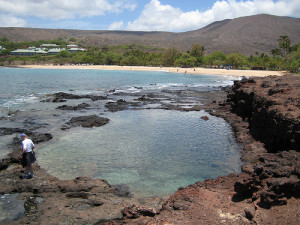 If you are looking for traditional water activities (i.e. diving, snorkeling, swimming), Hulopo'e Bay Beach is perfect for you

The water is clear, refreshing, and inviting.  This is Lanai's most popular swimming beach

Snorkelers love this beach thanks to the reef life below the surface

You will most likely see turtles and maybe even Spinner Dolphins

The Four Seasons Resort is located here

On the Eastern side of the bay, there are several beautiful tide pools cut into the lava

Sweetheart Rock is located on the Southern coast of Hulopo'e Bay
LAST WEEK'S POLL RESULTS
What is the worst type of airplane smell?
Smelly recirculated air (42%)
Smelly carry-on food (33%)
Smelly lavatory (17%)
Smelly feet (8%)
Smelly gas discharge (flatulence or belch) (8%)
Smelly body odor (0%)
Smelly breath (0%)
NEW POLL

Loading ...
HEY COOL CATS!
Our plug this week is for the Lanai Animal Rescue Center at http://lanaianimalrescue.org
If you are an animal lover, Lanai Animal Rescue Center offers terrific ways for you to make a big difference in the lives of homeless animals. ALL donations go to help homeless animals on Lanai. Just head on over to http://lanaianimalrescue.org and donate as much as you can.
ALL funds received will be used for the purchase of much needed supplies and/or medical attention and care. ALL donations are tax deductible and receipts will be provided.
IF YOU LIKED THIS, PLEASE SUBSCRIBE!

Photo Credits:
Music Credit: