Maui On A Budget And Hilo Lodging Options : Show 16

Podcast: Play in new window | Download
Subscribe: iTunes | Android | RSS
Some useful tips on how to visit Maui on a budget and two great lodging options while you are in Hilo on the Big island and more are featured in this episode of the Hawaii Travel Podcast.
Question of the week:
Our question of the week this week deals with lodging.  Where do you prefer to stay while traveling to Hawaii?  There are so many great choices ranging from hotels, B&Bs, condos, and vacation rentals by owner.  Which do you prefer?  Scroll down to the comments section below and let us know your thoughts.
LODGING OPTIONS IN HILO ON THE BIG ISLAND
M.L. in Louisiana sent us an email.  His question is about where to stay in Hilo.  He writes:
Hi guys. Quick question. On the past two episodes of the podcast, you made reference to how hard it could be to find lodging on the Hilo side of the Big Island.  Any tips on places to stay?  We heard that renting a condo for a few days may be an okay option, but it depends on the person who owns the property and how well it is maintained.  So, now we are trying to decide between a B&B and a hotel (if we can find one that is clean).  PS, Jennifer, my wife and I also don't enjoy cockroaches.  Any tips?
On our recent trip to Hilo, we were lucky enough to stay at both a hotel and a B&B, and we loved both of these options.  In this episode, we gave in-depth reviews of both.
An amazing hotel…


Dolphin Bay Hotel
333 Iliahi Street
Hilo, Hi, USA
(877) 935-1466
Dolphin Bay Hotel is a true gem in Hilo.  We felt like we staying in our own cottage as opposed to a typical hotel room.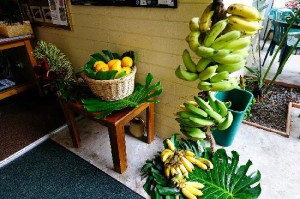 Some of the things we especially loved about Dolphin Bay:
Each room had it's own kitchen
There is a beautiful garden behind the hotel.  You can explore your own private jungle!
Each morning, there is fresh made banana bread and all the fresh bananas and papaya you can eat
The staff was extremely helpful and friendly
Ask for suggestions of things to do at the front desk.  Of course, it's easier to just grab a coupon book at the airport and flip through the ads that stand out to you, but we've found that in many cases the concierge at the desk can offer a neat local perspective on what to see, what to do, what to miss, places to eat, easy directions etc.  Of course, we still recommend you grab a coupon book, but make sure to discover the "real" Hawaii, too.  It is often better to ask someone who lives there.
An amazing bed & breakfast…
The Inn at Kulaniapia Falls
100 Kulaniapia Drive
Hilo, HI, USA
808-935-6789
The Inn at Kulaniapia Falls is a true cut above most B&Bs.  Situated a few miles out of Hilo, next to the beautifully majestic Kulaniapia Falls, The Inn at Kulaniapia Falls provides an amazing atmosphere and a pleasant retreat. The natural beauty of this location is hard to put into words.  It is absolutely lovely!
Our favorite things about The Inn at Kulaniapia Falls include:
The beautiful waterfall
The beautiful bamboo garden with 15 species of exotic bamboo trees
An exceptionally pleasant staff.  Lara, the innkeeper, was so incredibly nice and is quite the breakfast cook
Awesome breakfasts–including omelettes to order and the best waffles you can imagine.  These items, along with a nice selection of tropical fruits and breads, make for a truly memorable breakfast (Jennifer proclaimed it to be her favorite breakfast of the year)!
Fun trek to the Macadamia nut orchard on the grounds
TRAVEL TECH UPDATE
Here's a new piece of travel tech you might be interested in: TravelNerd is a neat new app and website to add to your travel tech collection.  Select your airport and TravelNerd will display detailed maps of the airport (including terminals, restaurants, bathrooms, lounges), wi-fi hotspots, and transportation information (shuttles, taxis, nearby parking).  Works on mobile devices as well as on a laptop computer.
MAUI ON A BUDGET
Greg and Diane from Carbondale, Colorado sent in the following email.  They are looking for money saving tips for their upcoming Maui trip: 
Dear Jennifer and Dan. We are planning our honeymoon in Maui the first week of July.  We are looking forward to our first Hawaii trip, but we are both worried about not having enough money–especially after typical wedding costs. Do you have any ideas of low-cost things to do on Maui?
We talked quite a bit about Maui in episode 4 of the Hawaii Travel Podcast.
Budget maybe two or three nights for going out to dinner and the rest of the trip dining at delis. Check out Eskimo Candy in Kihei.  Lots of cheap eats there.  And, don't forget happy hour!
There are many inexpensive things to do on Maui.
First, let's explore some FREE things to do:
Beaches! All beaches are free and open to the public.
Hikes!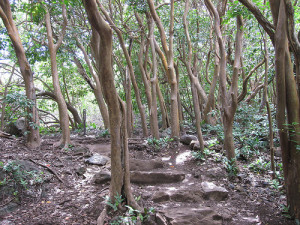 Hikes are free. Don't miss Waimoku Falls, a 4 mile round trip hike up a valley to a 400 foot waterfall with many great sites and spectacular views along the way.
Hula! Several shopping centers have free hula shows a couple times per week. Call for days and times:
Now we'll look at some CHEAP things to do:
For less than $60, hop aboard the Island Rhythms Sunset Cruise for a fun-filled sunset cruise with drinks, appetizers, and music.
Cultural Paddling Tour of Ko`ie`ie Fishpond: For a suggested donation, you can take a 90-minute canoe ride along the Kihei coast.  It opens with a Hawaiian chant followed by your tour guide sharing the history and culture of the area. The ride is ideal for sightseeing and for spotting resident sea turtles and humpback whales. Donations are encouraged, as they support the restoration of the fishpond. You must be 15 or older and able to swim to take the tour.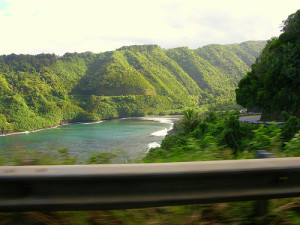 People interested in taking the tour can call (808) 359-1172 to make reservations. Tours are offered Monday, Wednesday, and Friday mornings from 8-9:30AM. Reservations are required.
The Road to Hana is a fun drive if you have all day to spend driving the 68-mile long stretch of Hawaii State Routes 36 and 360 (which connects Kahului with the town of Hana in east Maui).
IF YOU LIKED THIS, PLEASE SUBSCRIBE!